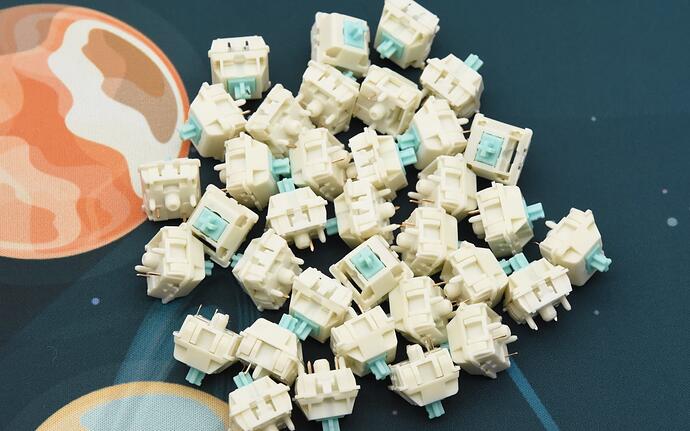 Hi everyone, this is DY from Unikeys
I am thrilled to bring you the IC of the X Switch designed by XY Studio.
Switch Type: Linear
Manufacturer: BSUN/YOK
Stem material: Modified LY
Top and Bottom Housings: POK
Operating Force: 45g
Bottom-out Force: 52g
Pre-travel: 1.6mm
Total Travel: 3.5mm
Factory Lubed: 205 and 105 mix on sliders. Dry film lube on the siders of the stem and on the spring.
What is so unique about the X switch is its choice of materials. I believe none of you have tried a switch that uses POK as both the top and bottom housing materials. The POK material is more uncommon as it just has been introduced to the market by BSUN and JWK. The POK material's full name is polyketone. Its coefficient of friction is 0.04 which is only higher than LY (0.03) making it the top 2 smoothest material used to make switches. It is also super durable as its wear resistance is 14 times stronger than POM. Its shock resistance is 2.3 times better than Nylon and 1.4 times better than POM. I don't want to bore you with the statistics, so in conclusion, the POK material makes the switch smooth, clacky, and durable.
The LY stem is fairly new but not uncommon. In recent months, we see LY material being used frequently on JWK switches. LY is known for its smoothness and the high-pitched sound signature that it creates. The most well-known switch with an LY stem is probably the SOTC switch which I believe some of you have already tried.
The combination of the POK and LY materials makes the X switch very smooth, and the precise factory lube from BSUN ensures that you can use it directly after purchase. If you are interested in the X switch, welcome to join our discord channel to learn more about it and get updates on the GB date. Thank you.