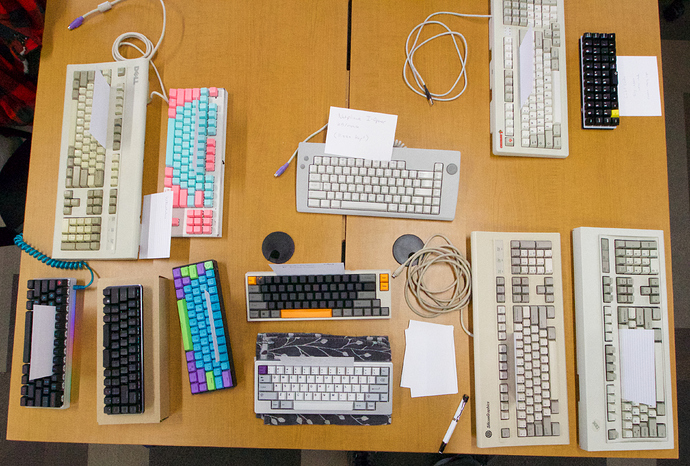 Please RSVP to the event using this Google Form
After a one year hiatus, we are back!
Whether you are new and curious about the hobby, or you have been building your own keyboards for years, come join us. There will be keyboards brought in by local members (show & tell), giveaways, and demos.
Attendee Safety
For health and safety reasons, the event is being cancelled. There is no projected date for the event to be rescheduled.
Date and Location
̶A̶p̶r̶i̶l̶ ̶1̶8̶,̶ ̶2̶0̶2̶0̶
̶1̶:̶3̶0̶ ̶-̶ ̶6̶:̶0̶0̶ ̶P̶M̶
̶o̶l̶i̶o̶
̶6̶2̶0̶2̶ ̶C̶a̶r̶r̶o̶l̶l̶t̶o̶n̶ ̶A̶v̶e̶.̶
̶I̶n̶d̶i̶a̶n̶a̶p̶o̶l̶i̶s̶,̶ ̶I̶N̶ ̶4̶6̶2̶2̶0̶
Current list of sponsors
Drop (formerly Massdrop)
SummitCables
Alpha Keycaps
OLKB
1UpKeyboards
LividityCaps
Spacecat Designs
olio
Itinerary
1:30 - 2:30 PM: Show & tell
2:30 - 3:30 PM: Build demo (lubing, stabilizer modding, soldering)
3:30 - 4:30 PM: TBD
4:30 - 5:30 PM: Giveaways
5:30 - 6 PM: TBD
Some of the keyboards
Acer 6311
Cartel Contra with Kailh BOX Blacks
RAMA M60
MagicForce 49 Key with Gateron Reds and WhiteFox keycaps
Various switch testers
HHKB
OLKB Planck with Zealios and XDA Canvas
Tokyo60
Aluminum Salamander with gateron black ink switches
Polycarb Salamander with gateron fei matcha switches
RAMA M10-B with Halo Clears
IBM Model M
Kinesis Freestyle (Silent Red and Blue switches)
Ergodox EZ
KBDFans Tofu
Klippe LE
Fjell
If you are ever looking for the event details again, please refer to the event website. This post will be edited as things change and details become more flushed out. I will include a change log at the bottom of the post to track edits to avoid any confusion.
Tracked changes / edits
Added details about possible event cancellation
Event has been cancelled