Hi Keebtalk,
We want to introduce the WhiteFox Eclipse, an update to the iconic 65% WhiteFox mechanical keyboard. This keyboard has been redesigned from the ground up with an all new feature set. We'd love to hear your feedback on the Eclipse!
You can join our waitlist / interest-check here: WhiteFox Eclipse Waitlist. We are still deciding on our launch partners and the community members on the waitlist will get an early launch notification to participate in a special one time pricing of the Eclipse. We are looking to price it between $125-$150 during the group buy / launch phase, with an MSRP of $180 after the initial production run. The pricing above is still subject to change.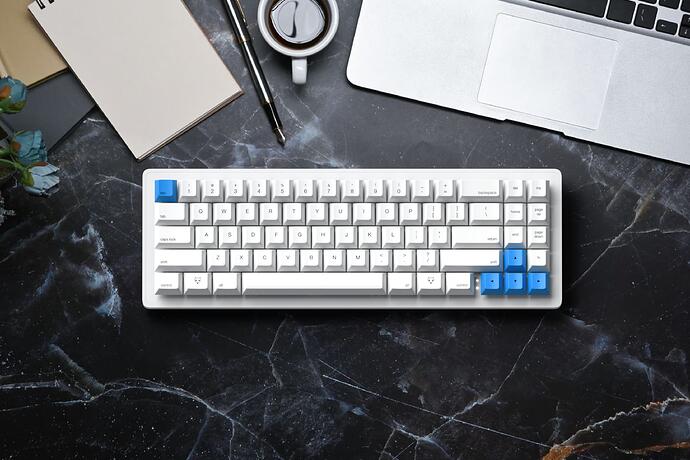 One of our key innovations is our magnetic gasket architecture used in the WhiteFox Eclipse. This custom design enables gaskets to be used in a floating keyboard chassis. Additionally, you can now reassemble the case and the plate in fraction of the time it would take in a traditional mechanical keyboard, resulting in a hot-swappable keyboard case. These new magnetic gaskets also allow serious DIYers to roll their own gaskets to change the feel of the keyboard.
Following are the specifications and features of the WhiteFox Eclipse:
Gasket Mounted floating design mechanical keyboard
Double Gasket design - edge gasket and magnetic gaskets
Unifying white color for the case, keycaps, plate, stabilizers, PCBa, foam, and magnetic feet
Bluetooth 5.0 and Wired functionality
Cherry profile PBT keycaps with additional accent and OS keys
We've standardized the keycap layout on the WhiteFox Eclipse. Our new 68% layout fits any base keycap set on the market and requires no non-standard sized keycaps
RGB LEDs with underglow. Two indicator LEDs are left of the arrow keys
Hotswap Mechanical Switches
Configurable using VIA or QMK
Firmware and keycaps for both MAC and Windows. Firmware will also work on Linux
Noise dampening foam
Flex plate and PCBa - We've included relief cuts in the QWERTY cluster for a uniquely comfortable typing experience
Thank you for your consideration. Please let us know your thoughts or questions here.
Team Alpaca Keyboards
P.S. Here is a video we've created for the WhiteFox Eclipse: Introducing the WhiteFox Eclipse: The Ultimate Creation Tool for Everyone - YouTube
P.P.S. We've also put some images of the keyboard here: https://imgur.com/a/r2zND0Z