Hi keebtalk,
I am Zhao from Keyreative and I will be the global operation lead for Keyreative/BIGCAT's keycap product line as of today.
We are sorry that we are just now opening up our communication channels on keebtalk, but we will maintain an active and effective role in the future.
For the latest production updates, please check our instagram: keyreative_keycaps, where we post about the progress of each set that is in production and production timelines.
In 2020, there was a surge in global orders. However, our production capacity at that time was frankly not big enough and our operations were also heavily affected by the pandemic.
In 2021, we shifted the main processing method of our products and tried to avoid the use of reverse dye-sub, which was unstable and had a high defective rate of over 40%. This shifting of processing method cost us a lot of time.
We even set up two new reverse dye-sub production lines to combat the backlog, but it was still very difficult for us to meet the demand at such a high defective rate.
The process of reverse dye-sub:
Firstly, we use a piezo inkjet printer to print the dispersion ink (the drawings or legends on the keycap) onto the film;
And secondly, we use specialized jigs to secure the film and treat the film at high temperature with our machines to allow the dispersion ink to transfer into the keycap.
There are many variables and uncontrollable factors in play during the whole process.

Although we are using the same model of printers and maintaining a constant room temperature and humidity for the workshop, the printed films would still have some minor color difference.
The reverse dye-sub equipment is designed and developed by ourselves. We are able to use PLC to achieve a close loop process to monitor the variables during the heat transfer process. However, tiny deviations will still be magnified as we go through more and more production steps.
Fading and stretching are often observed on the side walls of a reverse dyed keycap. And the follow GIF should help better understand the process. The flat film is heated and sealed onto the keycaps by vacuum. It is stretched 2 to 3 times vertically, and the ink in this area is inevitably pulled apart. Even if we compensate for the ink loss during the pull with computer calculation, it is impossible to bypass this physical process.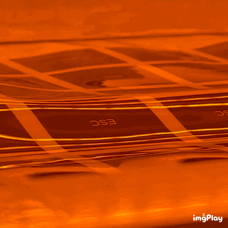 And why there often are alignment issues in reverse dye-sub products? It is a complex issue: how tightly sealed is the jig, whether the film can be softened evenly, the flow of vacuum, and other factors will have a great impact on the final alignment.
We will be shipping Mizu to vendors worldwide at the end of Feb and early March 2023. It is a massive order that took 3 months of production to complete.
We did a lot of work to improve on the issues found, but still couldn't get the yields for reverse dye-subbing up to normal levels. We have purchased products from other companies at different time periods and have never seen a better solution or a better equipment.
Reverse dye-sub might be more suitable for the production of products with less demanding requirements such as cell phone cases.
Ultimately we decided to convert suitable group-buy design into doubleshot. This took us a long long time, but thankfully the end results were satisfactory.
This does not mean that we are giving up on reverse dye sub. To make designs with complex colors and fine patterns possible, this process is still irreplaceable.
In the future, we would suggest that designers would be more likely to consider double- or tripleshot injection molding, or regular dye-sub as their options.
We are also developing a doubleshot and dye-sub hybrid process. And it's looking good from the prototypes!
Doubleshot is much more consistent in quality and much more efficient in production.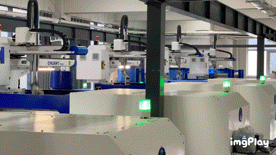 We further improved and expanded our doubleshot injection molding production line and we now have enough personnel and equipment to meet the demands.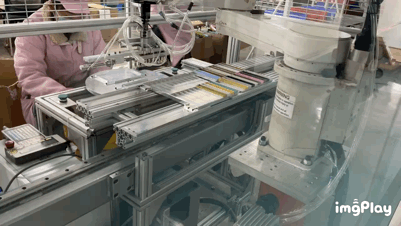 manipulator collaborative packing
We will also create a reasonable contingency plan for the delays in shipping.
The cost of making new moldings for custom legends and novelties in doubleshot KAT is also more controllable, so we will normally waive the molding cost. The new molds are also optimized for small production runs and multi-color designs.
We plan to send out free samples, brochures, and 3D assets to designers and vendors worldwide after KAT Mizu is shipped, and I will update more on keeb Talk and Instagram at that time.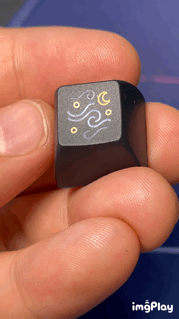 Any information can be left in the comments or write to me at zhao@xbigcat.com