While I enjoy the shape and feel of Tai-Hao Cubic profile, it's rather thin and light in weight. One remedy I thought of is filling inside of each keycap with something. After looking available options, I decided to try Apoxie Sculpt which is a popular epoxy clay brand. Epoxy clay is ideal because it hardens over time. No heating. There is air-dried clay also but they're not as dense nor hard as epoxy clay.
Here is a keycap I filled to try the clay. Spacebar above is used to avoid wasting leftover because who doesn't like hefty spacebar? As you can see, I misjudged how much clay I'd need by quite a bit.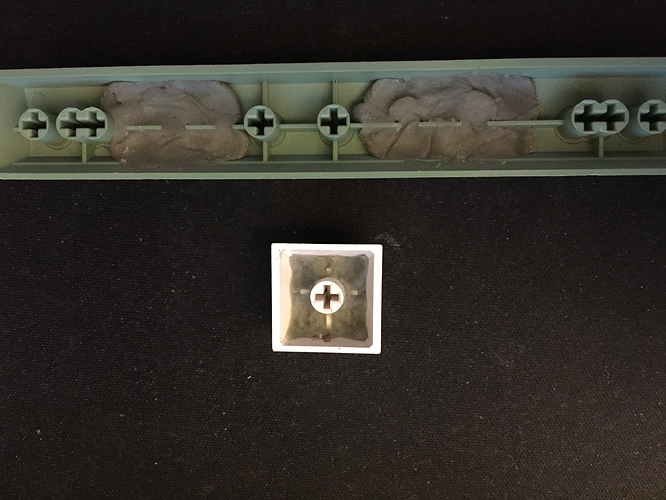 Before filling, keycap was about 1g. Afterward, 2g. There is plenty of space left over so I think 3g is not impossible. Added clay not only changed the weight of the keycap but also changed the acoustic profile, lower in pitch and reducing reverb. Feel improved as well because it doesn't feel flimsy. Result is top-heavy like a loaded dice but haven't noticed any unpleasant side-effects from that…yet.
As to difficulty of the mod, it's not that hard. Just mix two parts of epoxy clay, make small balls out of them to insert into 4 quads then flatten into place with a Q-tip. Each keycap should take no more time than it takes to lube a switch. With small plastic stamping tools, it should also take no time to add tiny sound-dampening cones on the surface.