My area (SF Bay) is under lockdown and Polaris hasn't arrived so I've been rebuilding the MasterKeys Pro S RGB my son left behind when he moved out. I'm pretty bad at writing and creating content for build logs but this is something at least.
Desoldering was painful but I learned that frequently lubricating the channel through the tip with White Lithium Grease using a pipe cleaner I had lying around made the job a lot easier. I think Silicon grease is recommended for this use but all I had was Lithium Grease around. If you do the same, make sure to open the window and have a strong fan going. I doubt fumes from burnt lithium grease is healthy.
As stock gaming keyboards go it feels pretty solid but reverb was pretty bad. Applying strips of Silverstone foams horizontally and 5mm Sorbothane struts vertically solved the reverb issue solidly. Photo below shows how the PCB looked with Silverstone strips. I slipped in Sorbothane struts with a tweezer after I put the plate on so they are not in the picture.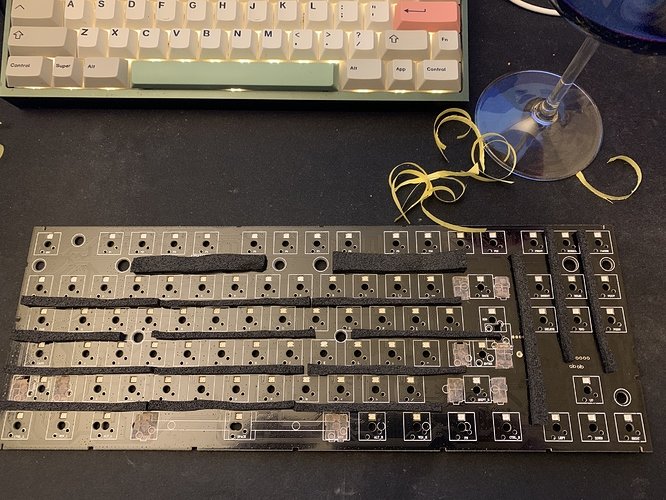 Cherry MX Brown switches were replaced with Aliza housing+UMHWPE stem hybrid lubed with 205g0. Crappy original stabs were replaced with GMK plate mount stabs from Prime Keyboard. They didn't have 6.25U plate mount stab so I reused the wire from the original stabs with 2U housings. Other than missing one stab housing which I'm told is now being resent, they were perfect. Tight wiggle-free fit and smooth.
The only remaining issue is 6 switches not working from applying too much heat while desoldering. I had to order some 30 AWG wires and a wire stripper for bridging work. No idea where all my old electronic parts went. Very likely thrown out by my wife. Oh, well.
My best wishes to you and your family. Stay safe and healthy. Don't go around licking keyboards. ;-p