After much talk of handwiring, I decided to finally sit down and design the layout as pictured below: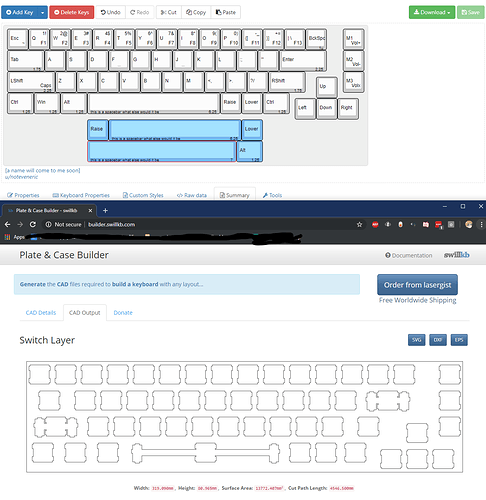 It's supposed to be a pseudo-planck, I-enjoy-my-65%-macros-and-arrows-too-much, compact, yet functional design. Anything on the upper layers is Raise, and anything on the bottom layers is Lower. (Designer's note: if you can propose a way to figure out all 13 function keys in one line without raise/lower, please tell me!) I was looking for feedback regarding how you feel about the layout. It will be printed via
LaserGist
in two separate plates, similar to how u/Grokodaemon built his
ONO-SENDAI MATRIX 83
. I don't yet know where I'm putting the microcontroller. I will figure it out soon enough. Any and all feedback is appreciated. Thanks!
(PS: I know this design is similar to the 45-ATS PCB by Abec13. By no means do I want to copy him: I needed a board that fit my requirements, and they ended up being very similar!)