Okay, now it's my turn to introduce a keyboard.
You may have noticed Drop offering the "Flesports MK870 TKL" recently:
There are typing tests all over Youtube. You have to watch several to get some snippets of the board's quality.
e.g.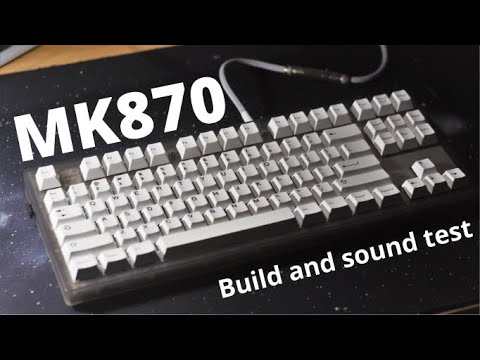 The above video compared stock silicon foam with no foam, concluding that it felt and sounded better without foam because of the inconsistent stock fit of the foam.
Other videos will give you other tidbits. From one channel, I learned about aftermarket polycarb plates that are available through TaoBao.
The upshot of the whole thing seems to be that this is a decent tray-mount with adequate stock stabilizers, south-facing LEDs, and ships with silicon foam for a low price [$35 USD on Taobao, $54 USD on Drop, $78 CAD shipped on AliExpress.] 5-pin hotswap.
It's competition for the low-end entry-level, like the Rakk Lam Ang Pro [although it lacks bluetooth] or the XD87. This is newer and possibly better.
There are comparisons to the KBD67 Lite, because of the smoky transparent case colour [also seen on the IKKI68 Aurora], but the KBD67 Lite is quasi-gasket-mount. This is only a tray mount, so the KBD67 Lite likely feels better. Guess we'll have to wait for a proper KBD8X Lite.
Anyway, I am ordering one, and trying to get a polycarb plate, so we'll see how that goes. I'm not sure if this is optimal as a dampened keyboard, or a thocky one.