Hi,
TL;DR
can anyone see any hing of the manufacturer of these switches?
Full story:
Recently I've bought the cheapest mechanical keyboard available in shops. The battletron Backlight Gaming Keyboard (Model 10183/2578871). It is available in the action market. I think throughout europe. They are like cheap ass knock off item stores where you can get like every unecessary crap you've never needed. And they have two different gaming keyboards in stock. One membrane for about 8 Euro and the mechanical one for 25 euro.
What is really killing me is that these switches are actually quite smooth even though they come unlubed. And of course the smoothness is hidden behind terrible layers of the cheapest bent metal brass plate, a veeery flexible plastic foam and keycaps that strive to be the #1 abomination between stencil-gamer appealing font and abs plastic toy crap you can imagine.
However after I've ripped apart the parts the black stemmed white/translucent housing'ed (bottom/top) switches wanted to make an appeal of a grown and strong switch, despite all the cheap ass smut there were covered in. And cheap it was. Even the solder. Some joints melted at about 300 deg C after a few seconds and others cried for evaporation with a 500 degree C soldering iron otherwise they wouldn't budge a billionth of an inch. And we are talking here about german iso layout. So 105 of these sweet little babies.
The have little to almost none scratch. Stock that is, as mentioned unlubed. They are not as smooth as tangerines or prevail epsilons. But feel like a thousand times smoother than NK creams or for gods sake browns. Those linear 3 pinners with a heavy spring, I believe with something about 65 grams or possible 70 grams have some spring/leaf ping but nothing too bad. Again gateron and cherry browns have much more of it even with spring lube.
They have shine through for RGB and little characters below the bottom housing. Some of these eltters are centered above the middle pin. Always the letter L and then a 2 digit number while others have the cahracters where the 2 additional pins of 5 pin switches would be. With the latter one it is always the letters LC on one side and a single digit number on the oppisite site.
Has any one any idea what these switches are?
`
![20220313_121102|666x500](upload://cDUdIc6mOcZKZhVTn0Qdb9zL1tp.jpeg)
`

The keyboard say made in peoples republic of china. The label on the bottom of the board actually says Manufacturer ZD Trading in Oost Netherlands. But the manual says to contact the service center which seems to be the norwegian/danish company schou.com.
They've replied with switch specs but the wrong ones. I've inquired about them and this is what they've sent me:
actuation force
50±15gf
5Kgf for 15 sec
Travel distance
4.0 ±0.3mm
Allowed tolerance
Operating force: 50±15gf 
Pressure point force: 60±15gf 
Pretravel: 2.0±0.6mm 
Total Travel : 4.0 ±0.3mm
Materials used for buttons and top housing as well as stem and spring.  
buttons:Nylon PA66
Keystroke: POM
Cover  top housing: PC110
Spring: Stainless Steel
contact: C7025 Brushing Gold
terminal: C5210 Brushing Gold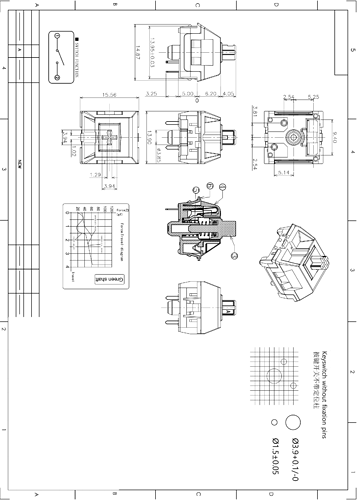 But these are obviously incorrect since the spring is much havier, there is no gold, only copper in there, these are linear and not tactile switches and the stem is black instead of green. Unfortunately they had no further info about the black stem switches after I've asked about this discrepancy.

Uploading: 20220313_121130.jpg…