Looks like a click bar switch with 4.0mm travel. Probably a nice switch.
Bought some to give 'em a try, will certainly be interesting to compare against the new Zeal clickies assuming those come out sometime this year. Nice to see a clickbar switch that isn't the BOX stem design, considering a lot of folks are still worried about those.
They should sound good. I always like the other non-box click bar (speed bronze and heavy pale blue) b/c they sounded best to me. But I never liked the high actuation point and the reduced travel. 3.5mm vs 4.0mm is certainly going to be a noticeable improvement. I am a bit worried about the 83g peak force. That's a pretty thick bar.
These switches might be the best click bar yet.
I hope they have a lower actuation point!
I think it's certainly possible with the increased travel. Would be silly to have a huge nothing after actuation, right?
Speed Navies have click bars as well. Im typing on them right now and they feel great. As far as I know though, they are the only non-box MX switches with a click bar until the Sherbert. I may be wrong though.
Kailh Speed Bronze use a clickbar as well.
I wish there was a force graph to compare against the other clickbar switches. Seems pretty similar to Jade but with a higher bottom out force.
Anyone tested these out yet? Unhappy with my current options for switches and curious about switching over to clicky for a while.
I'll be getting them in a few days. I only have a few clicky switches so I needed another sampling.
@Blindassassin111 has some and gave his first impressions on The Key Company discord. I can't wait till he gets them in a board for his final thoughts.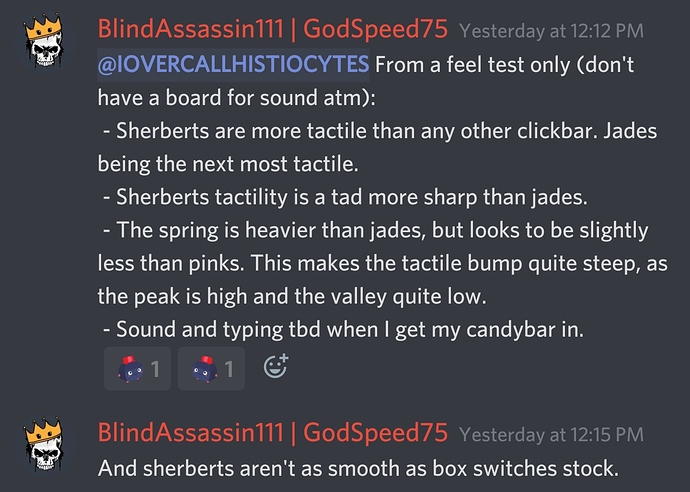 thanks! That description helps a lot. I'm going to assume they aren't for me b/c I'm not a fan of Jades at all (too sharp/stiff of a bump), and these are even more so.
If you have any box whites/light blue/pink that you don't intend on using (due to stem width or whatever), you can swap the thinner click bar into the sherbets. I've done this with box pinks and speed navy's, so I'm almost certain this would be the case with sherbets. If not, it may be worth picking up some cursed gen 1 box clickies on the cheap.
I don't have enough keyboards to test all of these switches in, this one is also very interesting! I really like my jades, and am curious what these could be.
Being scratchier makes sense, but thank God we can fix that with lube! I wanna try oiling/greasing the clickbars and seeing if that gets us anywhere…
A thicker clickbar might be what I'm looking for.
My problem with clickbar switches is they don't actuate because they click, and they don't click because they actuate - in other words, I don't like them because they aren't clickjacket switches. I've tested a lot of clickbar switches and what I've found is the Speed versions can be made to actuate one or more times before the click on the downstroke, like when you rest your hands a little too hard on the keys. The Box versions can be made to actuate one or more times after the click if you hold the key halfway down on the upstroke, which I might do simply because I don't like to bottom out while typing.
That being said, maybe I just need a switch with a clickbar so thick that it's impossible to make the switch actuate before or after the clickbar - only going through it.
Definitely an interesting switch, although from what I've seen here I am probably gonna pass on these. Clicky switches are just not my thing barring a few special exceptions & I share a lot of the gripes @equalunique has with the clickbar design. Gonna wait till you guys get some in hand & let us know your opinions before I even think about grabbing a batch.
Ok so I tried them tonight…
They're like Box Jade switches with a little more pre-travel & slightly higher pitch.
No actuation before the click. If you actuate it and slowly release but stop before the 2nd click, you can hover it in a bitter-sweet-spot where it can be actuated any number of times without clicking - all clickbar switches are like that though. Probably not something that would annoy most people considering the light spring & thick clickbar.
Fot a clickbar build I would consider them.
I have been using some since they came out - I lubed them with 105 and think they are pretty smooth as such. I like them more than box jades.
How's the tolerances on the cruciform mount? No stem crackers or anything like that? I highly doubt it should be an issue as I have never heard of any non BOX Kahil switches doing that, but am curious about it.
I measured several after I saw a review saying they were out of spec and found that they were all 1.28 to 1.29mm