That's really not bad. Very nice colors and the bright novelties somehow seem to work (IMO at least).
Yes, I like the looks of the set with the accents a lot.
Here's some real life shots of the set from their instagram:

I did notice that they don't show any shots of a full spacebar

Hopefully not too warped
Man, I'm not a fan of Cherry profiles, but these are really nice. The price is decent and in-stock-sale really makes it appealing.
Shipping to US is $30, DHL is the only option. That kinda stinks. I went ahead and bought a set. First purchase from KBDfans in over a year. I figure I can resell the set if the space bars aren't great.
Like many said here, I really like it as well. Not enough that I buy it, but just like it.
I like it! I'm a fan of muted tones and icon mods, Biip does good stuff.
But its too bad shipping is too high to the US from KBDFans. I guess i dont like it that much haha…
My experience in the hobby described in three sentences.

Hopefully, KeebsForAll will add Spark to their KBDFans offerings for cheaper US shipping.
This set makes me think someone saw GMK Dracula, and tried to recreate from memory months later… I love the accent set, but it is a shame the base + accent is together the price of a GMK set maybe worth it though without wait.
I ordered a set. Will report back once I get it. Double shot PBT is absolutely a curiosity for me and I like the color way. I hope the quality is there
Ok these look very good at first glance. I haven't mounted them on a keyboard but the legends look really good. Also excellent packaging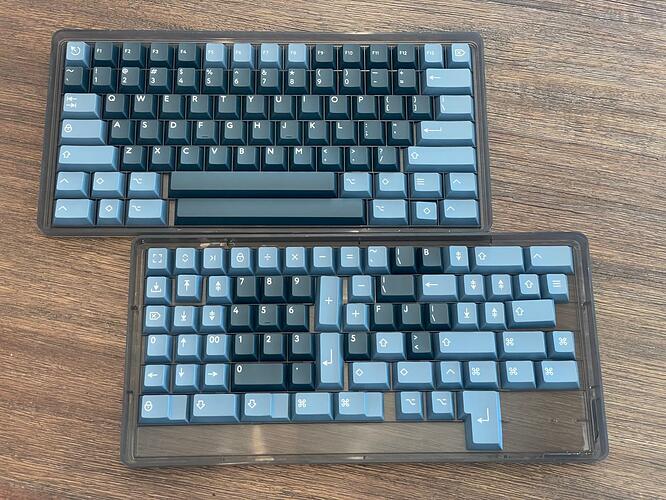 Impressive forsure! Looks great. How's the typing feel?
The do look damn good for the price & process they're made with! Love the purse caps symbol, wish they would've used the xbox symbol for backspace rather than delete though. I'm a sucker for the xbox backspace on a split backspace setup!
These are good. After mounting them I would recommend them. Actually straighter than the GMK MODO that they just replaced.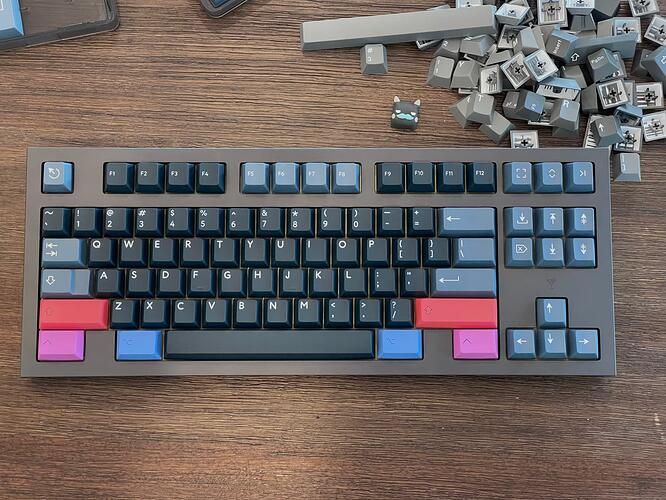 Oh man, those are REALLY nice.
(cantspendmoneycantspendmoneycantspendmoney)
Finally had a chance to put these on a board. The texter is slightly drier than what I prefer. It's not a deal-breaker, but I prefer the texture of the hippo polycaps which is smoother.
Also, there is no red function key to accompany the red split right shift. So, I'll probably end up using this on a 65% or TKL to make it look better.
I really like the look of the legends on the alphas. Nice and modern, but still classy.