Hello, maybe someone had a similar problem or has any ideas for possible solutions.
I'm using the CPG123201D01 switches from Kailh for my super-low-profile keyboard. The reason I choose them is that they a couple of millimetres lower even than the choc switches, and I really want my keyboard to be low-profile.
I already used them in one previous keyboard, but due to a couple of design mistakes on my part, and, now I realize, to due to problems with those switches that I didn't notice back then, it was unusable. Now I decided to scavenge that project and re-use those switches, but without the design mistakes it is now patently obvious that the switches are a problem.
But what is the problem exactly? Basically, the switches are clicky, and they click very nicely when they are pressed, however, that click is not accompanied with closing the circuit. In fact, they don't close the circuit until the bottom out. You can imagine that getting a click but not getting the letter is extremely frustrating.
As far as I can tell, the clicking mechanism is completely separate from the contact mechanism in those switches, you can see it on this animated gif: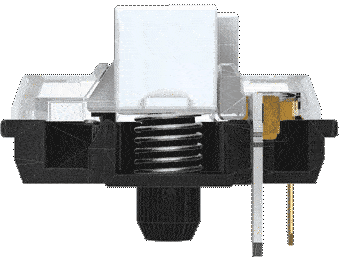 I wonder if there is any way to rescue this project somehow, short of re-doing it with properly working switches. Any suggestions welcome.