Hey All,
Another build log incoming for my new project - Radix

After building a couple of the Bloomer keyboards my last thread was focused on I decided to start up something new. I bought a 1.5" OLED display that I want to try integrating into a keyboard. I know others have had success with the 0.96" so I'm hoping this one won't be too different.
Here's the overall idea for the board: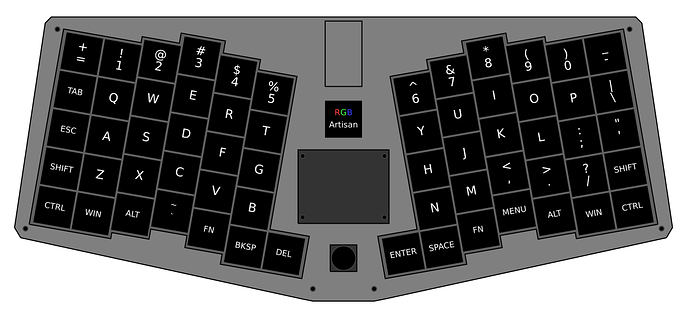 It's basically an Atreus62 with the left and right sides split farther apart to allow for an OLED display in the center and the thumb keys adjusted to my liking. The circle underneath the display is a rotary encoder knob. I'm also going to add a spot to showcase an artisan and one of the underglow RGB LEDs will be placed underneath it.
I'm planning to go back to using acrylic layers for the case because it's so much cheaper and easier to prototype with than 3D models, especially considering I don't have my own 3D printer.
Also, after looking at how my Atreus62 was constructed (Which I didn't build myself), it uses 4.5mm acrylic for the plate which I personally think sounds better than aluminum and even feels better to type on.
My first focus will be to design the PCB so I'll be getting started on that today!