Recipe:
Kailh Speed Gold Stem (jailhouse mod with o-ring)
Outemu Sky (teal) Housing
45g Gold Spring (or whatever spring you like)
Krytox 3204 Equivalent
Description:
Jailhouse modding Kailh Speed Gold stems creates a tactile feel with a high actuation point and shortened travel (some may find this undesirable).
The o-ring fills some space above the spring, so the 45g spring may not be the actual spring weight, since it's compressing in a shorter area than normal.
Outemu Sky Teal housings are nylon 66, but I'm unsure if this will act as a lubricant as the switches wear over time or if it will wear and make the switches feel smoother.
Krytox 3204 Equivalent
45g Gold Spring
Small Black O-ring Inside Kailh Speed Gold Stem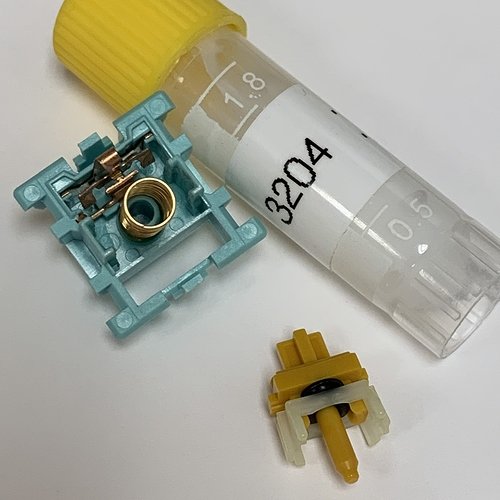 Tested on a Novelkeys NovelPad
(I still need to mod the rest of my switches for a full 60% build)