Hi everyone. Some of you might have come across my website: https://switches.mx
After countless design iterations, test prints, and tweaking, I'm finally ready to announce the first new product.
SMX-ACSE-01
The 3D printed mechanical keyboard switch holder, display, and tester.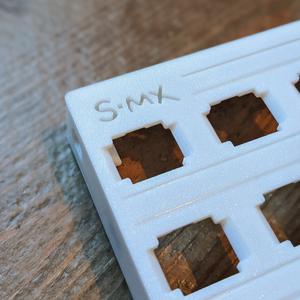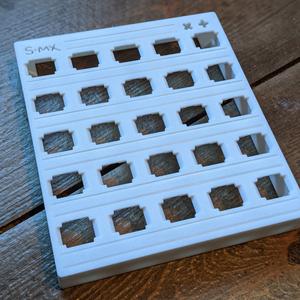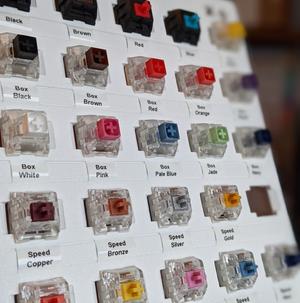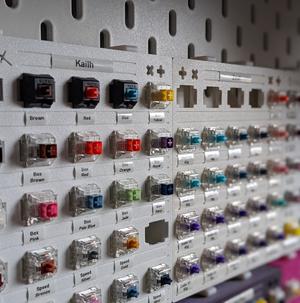 Features
Switch holes with side cutouts to showcase both top and bottom of switch.
Holds 25 switches (5*5).
Stackable (the feet fit snugly on top of mounted switches).
Unique label track system - compatible with standard 9mm label makers (for example the Dymo LabelManager 160).

Simply slot in with no adhesives.
Held in firm but can be adjusted with a little force to make them line up perfectly.

Designed with postage costs in mind.
3D printed using high quality filament.
Designed to fit nicely aligned next to each other.
Edge walls allow for magnets (6mm diameter x 2mm) to be slotted in to hold multiple boxes together side by side (not included).
Visually appealing textured top surface.
Designed with an appreciation for switch feel and sound.
Available in 2 colours: Bright White and Galaxy Black (has a subtle glitter effect).
Comes with rubber feet for stability, sound profile and feel.
Optional IKEA SKÅDIS pegboard clips to allow for wall mounting (printed in same colour as switch holder).
Optional custom logo to replace S.MX top left logo. Add the Custom logo design product to your order.
Get yours here! https://shop.switches.mx/products/smx-01-switch-holder
Pricing
Starting at £12.99 (before shipping)
Launch discount
Use code LAUNCHSALE for 10% off everything for the next 24 hours.
Digital download version
I appreciate that it can be prohibitively expensive to post items like this (especially given I'm not in the US - I'm in the UK) so I've decided to offer a downloadable STL file version of the SMX-HLDR-01 (and compatible IKEA SKÅDIS pegboard clips) to enable you to 3D print this at home (if you have a printer), or a friend or even a local 3D printing service.
Link here: https://shop.switches.mx/products/smx-hldr-01-stl
Priced at £10.00, which hopefully you'll agree is reasonable
Future plans
Note, these are printed on demand and not stored as in-stock (except for digital downloads) so there will be a delay between placing your order and it being shipped.