First to preface things : this isn't meant to throw shade on anyone as I do realize it's partially out of their control; so I'm not going to name names given that, and also because they've been fantastic in the process so far. This is really more to gauge how delusional I might be haha

I just got a replacement board due to the first unit having issues - unfortunately this one has an issue that is basically the same as the reason I sent the first board back.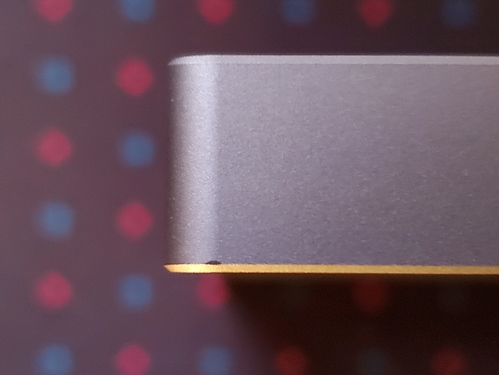 Clearly I have terribly luck to be 0 for 2 haha - it's a little dinged up as you can see from the dark spot. I don't think it's simply an anodization issue as even though it doesn't always appear this dark, no matter the angle, the general area is large enough that it's pretty easy to spot something visually off.
This got me thinking since I haven't seen too much about the topic as a whole - what are your folks' expectations in general when it comes to quality control in this community? I've been wondering if my standards are simply too high and if there are things that I just need to learn to overlook and move on with.
My overall view is pretty straightforward, as long as damage is only in areas where you won't see anything after building, I'm cool with it. Well, not completely but it wouldn't be something that would upset me as much. While I am unfamiliar with aluminum machining processes, in this instance, I'm surprised this wasn't caught ahead of time and fixed(assuming that it's fixable); it's not exactly hard to spot.
I haven't been into keyboards for that long so I'd be curious to hear other folks opinions, especially people that have been into (buying or making) keyboards for a good while.
At the end of the day it's just a keyboard; I haven't decided what I'll do but I will probably end up trying for a return or sell it but I'll get over this eventually.
It's still a bit of an emotional rollercoaster for me given the typical price and length of group buys, feels like I wasted time, money and energy

(I'm overall ok though haha)