This has been something I've been looking into over the course of designing my 120% keyboard, and something that I'm generally pretty concerned about for the keyboard community. I've brought this up in various Discord servers at various times, but would like to write a longform post about this.
Disclaimer - I am not a lawyer, and this is not legal advice. I am not an expert in this field - this is merely a summary of my research, and there may be inaccuracies.
TL;DR
Digital devices such as keyboards can generate unintended radio interference
Government agencies (such as the FCC in the US) regulate the airwaves, and generally require consumer electronics products to be tested before they can be built, sold,or operated, to ensure that they don't exceed legal limits for unintended radio interference, and don't cause issues for other devices that use our airwaves.
These tests require very expensive calibrated equipment, and have to be done at a testing lab
A test can run north of $2,000 for a given design for a given jurisdiction
Most custom keyboards out there do not perform these tests, and are potentially illegal to either sell, build, or operate as a result
The fact that custom keebs are built from kits does not seem to help much:

In the US - although whether designers and vendors can sell kits without testing is a gray area, current regulations make it illegal for end users to build and operate an untested design from a kit, or to resell it
EU does not appear to exempt kits at all
I have not looked into other jurisdictions

There's an exemption for DIY projects in the US (and likely the EU), but keyboards built from kits are not exempt, and it appears to be illegal to sell untested keebs built as DIY projects
There are potentially ways around this that do not require expensive testing, but may require a change in how custom keyboards are sold
Introduction
Flip over any prebuilt keyboard, and you'll find a label on the underside. Usually it'll list the model name and a serial number, and almost always, you'll find some regulatory symbols.
For example, here's the underside of an iKBC CD108: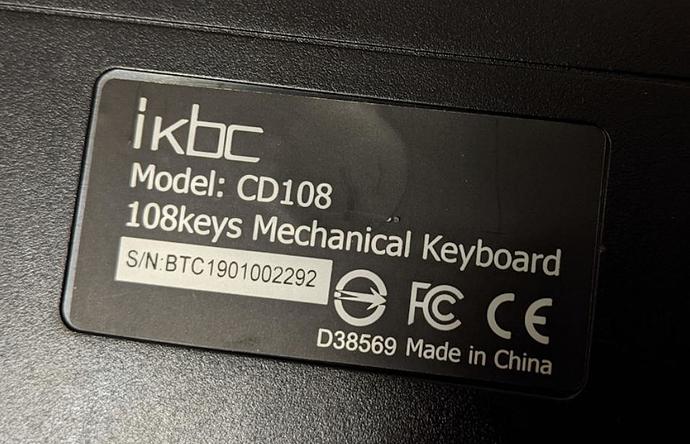 To the right of the serial numbers are three logos - from left to right, the arrow on the left represents Taiwan's Bureau of Standards, Metrology and Inspection, the middle logo is for the US's FCC (Federal Communications Commission), and the CE logo on the right is for the European Union. The logos attest that the keyboard complies with the various regulations in those jurisdictions that cover keyboards and other electronics, and as a result, can be legally imported and sold there. On other keyboards you'll often find other logos that cover other jurisdictions (for example, CCC for China, or RCM for Australia and New Zealand).
One of the main regulations that electronics have to comply with is what's called electromagnetic compatibility (EMC). This can also be called EMI (Electromagnetic Interference) or RFI (Radiofrequency Interference). These regulations exist to ensure that consumer electronics and other goods don't emit excess amounts of unintended radio interference into our shared public airwaves, which can cause problems for other devices (radios, phones,TVs, etc.) that rely on it. There are legal limits for unintended radio emissions, and generally most electronic devices sold on the market are required by law to be tested to ensure that their emissions do not exceed legal limits. In the US, this testing and verification procedure is called "Equipment Authorization", and is regulated under 47 CFR Part 15. In the EU, keyboards fall under the Electromagnetic Compatibility Directive, in addition to other regulations like RoHS.
Do wired keyboards have to do this too?
Yes - a popular misconception is that these regulations only apply to wireless keyboards. Virtually all keyboards, wired and wireless, are digital devices that operate above 9KHz (your typical keyboard MCU operates between 10-100MHz), and have substantial ability to emit radio waves as a result. In the US regulatory scheme, wired keyboards are categorized as "unintentional radiators", and are regulated under 47 CFR Part 15 Part B. This is why prebuilt wired keyboards still have regulatory markings on them.
The DIY exemption and kits
However, unlike prebuilts, custom keyboards are usually sold unassembled as kits, to be assembled by the end user.
In the US, personal DIY projects are provided a limited exemption from testing in 47 CFR § 15.23. Unfortunately, to qualify for the exemption:
The device must be built for personal use
The device may not be marketed (i.e. offered for sale, or sold)
Devices built from kits do not qualify
As a result, if the vendor or designer did not test the design, it is technically illegal for people to operate the resulting keyboard without having conducted the tests.
A kit is defined in 47 CFR § 15.3(p), and the fact that switches or keycaps are not included with custom keyboard kits doesn't change that they are still considered kits.
Whether vendors and designers can sell kits in the US without testing is a gray area due to a lack of explicit regulations on most kits and contradictory (but non-binding) FCC statements on the matter. Sparkfun and EMCfastpass discuss this in depth and reach opposite conclusions. In addition, for computer peripherals specifically, 47 CFR § 15.101(d)(1) says that "No authorization is required for a peripheral device or a subassembly that is sold to an equipment manufacturer for further fabrication; that manufacturer is responsible for obtaining the necessary authorization prior to further marketing to a vendor or to a user." . It can be argued that the end user is an "equipment manufacturer" that conducts "further fabrication" since they build the kit into a complete keyboard, though I would say this is a stretch.
However, if sellers were not required to test, customers who built the keyboard would end up with the legal responsibility to test, as kits are not given the DIY exemption. It would be unreasonable to expect customers to pay thousands of dollars in testing to legally operate their keyboard, so it really should be up to the vendors and designers to do this.
The EU does not appear to exempt keyboard kits whatsoever. The EU likely exempts personal DIY projects, as the EU EMC Directive specifically only covers products that are "placed on the market (i.e. available for sale). This would probably exclude personal DIY projects as they are not "placed on the market", but would include keyboard kits bought from a vendor or during a GB. There are also exemptions for custom built R&D evaluation kits and amateur radio equipment kits, neither of which would cover keyboards. For other kits, the flowcharts in the EMC directive guidance document seems to state that electronic components or sub-assemblies "intended for incorporation into an apparatus" "by the end user" (i.e. a kit) falls under the definition of "Apparatus" and therefore falls under the regulation.
The Testing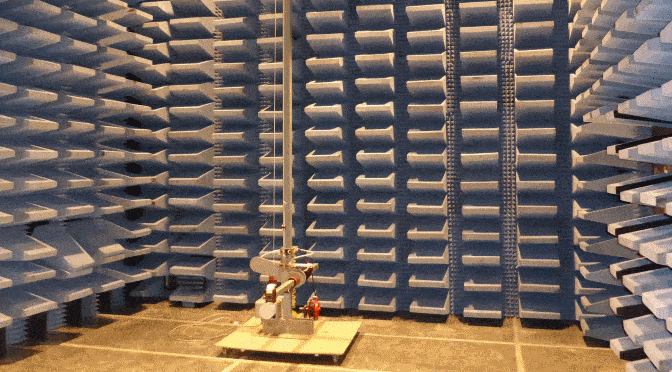 To test a keyboard, you generally have to bring it to an accredited testing lab, as the equipment required for testing (a calibrated antenna,spectrum analyzer, and a shielded anechoic chamber) are extremely expensive and must be calibrated. The FCC also requires the test labs you use to be accredited. So unfortunately, DIY testing is not an option for fulfilling the legal requirements.
EMCfastpass goes into some details about the required tests. The FCC requires radiated and conducted emissions tests, while the EU requires additional immunity and ESD testing.
A part of this blog post from the Ultimate Hacking Keyboard's developers also goes into the process a bit (scroll down to "EMC Testing").
As far as cost,I received a preliminary quote from a lab to get my keyboard design tested, and it was:
$2200 for FCC Part 15 Testing & Certification (SDoC, Class B, Part 15.109, 15.107), for the US
$900 for Industry Canada Testing & Certification (ICES-003, Issue 6, Class B, CISPR 22)
$3500 for CE Testing & Certification (CE EMC | EN 55035:2017, EN 55032:2015, with reference to EN 61000-3- 3:2013, EN 61000-3-2:2014), for the EU
So $6,600 for testing from this particular lab - pretty steep. This also wouldn't cover other jurisdictions like Mexico, Singapore, Japan, Australia, etc., as those countries have their own standards and their own test requirements, and their own costs.
In the US wired keyboards are allowed to self certify under the Supplier's Declaration of Conformity process - no submission to the FCC is required, but testing must be done, and the test results must be kept and available to the FCC upon request. Certain regulatory language is also required to accompany the product. I am less familiar with the EU requirements but I believe it is similar.
Penalties
In the US, the FCC has the power to levy pretty substantial fines (up to $75,000/day) for failing to comply with their regulations. However, there currently doesn't seem to be a lot of enforcement going on - you can see a list of past enforcement actions on the FCC website under Equipment Marketing Violations, which includes failure to conduct testing. In addition, wired keyboards generally are unlikely to be huge sources of interference, as they don't use much power and often have metal cases that act as shielding. However the enforcement that has happened (none of them keyboard-related) generally resulted in pretty large fines.
I am not familiar with the EU or other jurisdiction's enforcement and penalties, but they probably also involve fines, and potentially mandatory recalls and criminal penalties.
Boards that do testing


Some custom keyboards do go through the testing process, and display the FCC and CE logos. Notably all of these boards are either hotswap or offer a prebuilt option.
CapsUnlocked tests all their boards
Drop appears to test their boards (the Planck was notably delayed due to FCC testing)
Mike from Novelkeys said in an email that the NK-series boards have passed testing, though they don't display the markings. These markings may be added to VIA in the future, as in the US devices that require screens to operate (such as phones and keyboards) are allowed to display their regulatory markings digitally.
The Ultimate Hacking Keyboard
Boards from larger companies like Glorious and System76 generally go through testing
However, most customs show no evidence of having conducted these tests.
What would a legal custom keyboard scene potentially look like?
As mentioned, there isn't much enforcement in this space now, but if the scene were to comply with these regulations, this is potentially what the options are.
Option 1: Just do the testing
For higher volume boards, the designer or vendor could simply do the testing. Testing is effectively a one time cost, and several thousands of dollars in testing costs can be easily diffused across thousands of boards sold. For example, a $6,600 testing fee across 1500 boards in a large GB (such as a Satisfaction75) amounts to only $4.40 per board, which is definitely affordable. Large GBs are unlikely to see much issue here.
Some designers and vendors may choose to limit themselves to certain jurisdictions to cut down on testing costs - for example, doing only FCC testing for the US may only cost ⅓ that of doing the tests for the US, EU, and Canada. If it's unlikely for the EU sales to make back the $3500+ in testing fees to be able to legally sell there, designers and vendors may simply choose to not sell there. This would be quite unfortunate for the community, and smaller markets with their own testing laws (such as Canada and Australia) may be especially screwed over here.
Unfortunately, this is likely not that viable for lower volume boards, which have fewer units to spread the testing costs out to, and would potentially result in substantial price increases. . If you're a first time designer, or running a highly unusual or experimental board, and only running say, 50 units, a $6,600 testing fee add $132 in costs to each board sold.
Option 2: Separating the PCB and case, and only selling the case to take advantage of the subassembly and DIY exemptions.
Another option might be to only sell the case rather than a complete kit- since the case is just a hunk of metal or plastic and does not contain electronic components, it may not fall under the EMC regulations. The customer would have to buy their own PCB. Some case-only GBs already do this, though for other reasons.
PCBs that are sold separately and not intended for any particular product likely fall under the subassembly exemption in the US, which is discussed in Sparkfun's and EMCfastpass's articles. The resulting PCB/case combo might avoid being classified as a kit, and therefore have the DIY exemption available for end users, which would remove the need for testing.
However, this likely only works for boards that use common layouts (such as 60% and TKL) for which several different PCBs by several different sellers are available - if you just sell the case and PCB separately in the same store, and the PCB is intended only to work with your particular case design, it seems a lot more of a stretch to try to exempt the PCB as a subassembly.
The EU regulations also do not appear to cover bare cases, and contain a subassembly exemption that might be similar, so this also might be an option for other jurisdictions.
Option 3: Open Source
The third option would be to take advantage of the DIY exemption, and instead of selling the board, the designer simply publishes the design and the manufacturing files online, so that the designer or vendor aren't selling anything. The end user would be expected to buy all of the parts and assemble it as a DIY project (not from a kit).
This could potentially be done in conjunction with (2), where the designer may choose to only sell cases, and tell the end users to order their own PCBs directly from the PCB fab.
Unfortunately, this ends up being very uneconomical - there are substantial economies of scale and cost savings from mass manufacture, and everyone making a board will have to pay the cost of a one-off. In addition, options for the designer to be compensated for their work are somewhat limited. However, this may end up being the best option for smaller design that cannot afford the testing costs and for which no off-the-shelf PCBs are available for.
Ignoring the law
Of course, this has been essentially what's been going on (mostly out of ignorance). No one has gotten in trouble so far, there isn't a ton of enforcement going on, and with keyboards unlikely to be a huge source of interference, we haven't seen much of the negative consequences of interference that the regulations were meant to prevent. In addition, in the US, the legal responsibility is possibly on the end user rather than the designers and vendors, and it is unlikely the FCC goes after every single individual typing on an untested custom keyboard. Nonetheless - the community is growing, and no longer able to skirt laws that it formerly got away with ignoring (most notably around intellectual property and keysets). In addition, vendors, especially those that sell outside the US, potentially face substantial legal liability. Finally, although unlikely due to massive potential backlash, larger players are moving into the customs scene, and may be able to report these violations to the government to try to eliminate competition from smaller vendors and designers. So moving forward, this may no longer be a viable option.
Conclusion
I haven't really thought much on how to conclude this long and technical post - I just wanted to raise this issue as a problem with huge potentially significant impacts on how the customs scene operates, and something that definitely merits discussion. Hopefully, we as a community can find ways to deal with these regulations moving forward.