A thread to post the upcoming holiday deals:
So far I've got these extremely underwhelming sales from zfrontier:
Unikeys is having a BF pre sale, hopefully that means even more on sale come BF itself!
Some BSUN switches for 15% off here
Sneakbox has a huge sale, USB Mini MGA Alice (without a switch plate, get it separately) is half off and $87.50 in the cart: MGA Standard USB-Mini Bundle – Sneakbox
Tons of other automatic discounted stuff and some very limited better deals with discord-only codes. Check it out.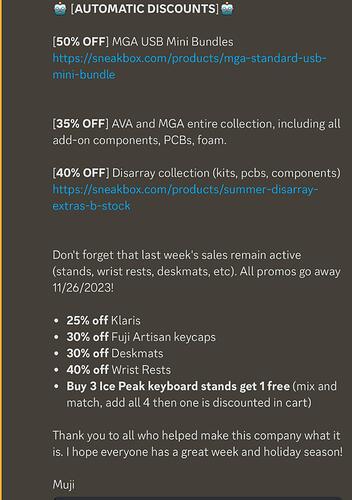 Thanks for the post! Got a killer deal on a B-stock disarray65. Merry Christmas to me

Yeah big thanks! I jumped on the half off MGA standard USB mini bundle! $87.50 for a decent all alum Alice clone case & a free PCB… Umm yes please! Now I can finally put the Hiney 3/4 FR4 Alice plates I bought for Rukia to some use!
Mekibo has 15% off keyboard kits and 20% off keycap sets. To log in to the website use AUNTIE
Novelkeys is going to have 40% off of almost everything. Details here:
Lowkey hoping that 40% off goes towards clearance keycap sets. Been eyeing GMK Yuri & Skydata. If the come down to around $50 a set I'm grabbing both LOL!
I think it will! The only exceptions are listed on that page. Mostly newly released extras.
ILUMKB sales live. No codes. Just marked down items:
Nice! Now I'm not gonna have a choice but to rearrange my keycap storage. I got so many GMK sets stacked on top of each other the bottom ones are starting to get their packaging crushed LOL!
Mechwild:
30% off your whole order with code MWBFCM30. It starts on Friday right at midnight Eastern Time and will end the following Monday at 11:59:59 PM or as close as I can get.
CannonKeys is going have some nuts deals. The preview showed limited number of Brutal v1 bundles including mystery caps and switches for $99 and GB extras premium boards starting at $149. Not sure what the latter will include but my wallet says I need to block out this information.
how underwhelming? the discount is applied once the item is in the cart and I find 50% off for KAT Refined set is a great deal
Mykeyboard.eu has up to 75% off https://mykeyboard.eu/
The HSA bob+bob and bow+wob are €30/each
NicePBT and CXA sets are €25-€31/each
Some aluminum keyboard kits are 50% off
The site is super slow/half-down so I am unable to check what interesting things they have on sale
But they don't have alphas in stock. I guess if you already owned the set and wanted to add on.
I highly recommend anyone who likes the aesthetics of the HSA sets (vintage look, glossy) to buy it. HSA might be one of my favorite profiles I've ever tried. I own pretty much every profile out there. I do appreciate all of these for their unique offerings: KAT, KAM, SA, HiPro, DSA, DSS, XDA, MG, AFSA, GMK, various OEM, DCS, G20, MT3, etc. But I would rank HSA at least #2 out of all of those profiles. The Beige on Brown set is nice. The inconsistencies in the Brown on Beige are more apparent. That set isn't my favorite.
Here's the sale page for Kinetic Labs. A few good deals on desk mats and switches. Also some of their colorful keycap sets are on sale: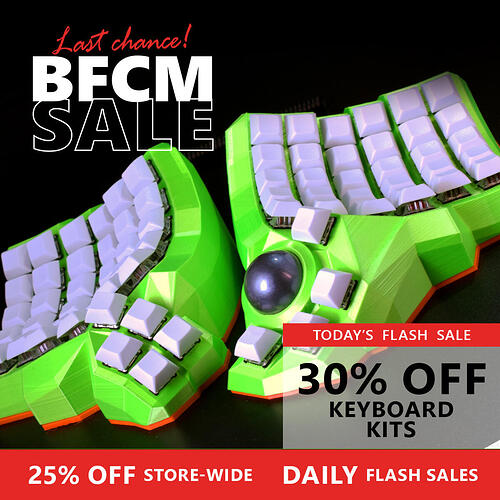 The DIY Keyboards BFCM Sale is happening now! We're running an even stronger sale than in years past, with 25% off store-wide plus a different Flash Sale every day for the next week. Prices slashed across the board. No codes or other hoops to jump through. Enjoy, and thanks for your continued support!
Today's Flash Sale:
*** Last Chance for 30% off keyboard kits***
I will be updating here with the daily Flash Sales so be sure to check back. Sale ends 11/29
DIYK specializes in kits, cases and hardware for Dactyl Manuform, Corne, Sofle, as well all the accessories for your next handwired build.
Free shipping in USA for orders over $49.99 and 50% off international over $99.99. We are located in and ship from Pennsylvania, USA.
Be sure to join our Discord if you need advice on your build or just want to hang out and talk keyboards!