Hey All,
So I've finally had some free time to get back into keyboards so I'm working on
a new revision of the Bloomer. If you haven't seen the existing versions and
you're interested, here are a few links:
Anyways, the major change I'm looking to make next is to make the keyboard
wireless. Between the chimera, mitosis, redox wireless, and a few other
keyboards making wireless more popular, I feel like there's a decent desire for
wireless options (Including my own :P) and enough other resources I'll be able
to learn from.
That said, I'll be removing the RGB lighting from the board as I'd imagine it
would have a pretty big impact on battery life.
Also, now that I've been using the previous iterations of the board for around
6 months, I plan to make a couple minor layout adjustments I think will be
positive:
Move Home, End, Page Up, Page down close to clusters
Move brackets
Increase keys from 87 -> 90
Condense the middle cluster to make room for the wireless components
Intentionally leave the pcb & case rectangular so that TKL wrist rests are
compatible
Here's a rough svg render of what the keyboard will look like: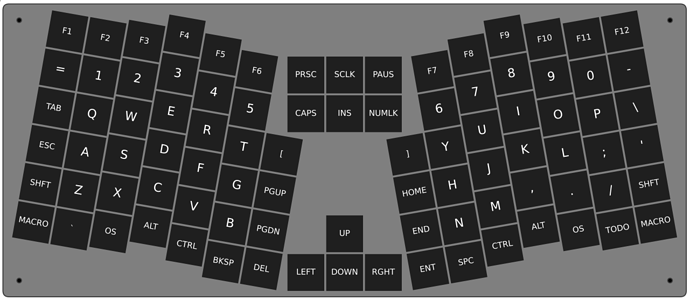 The one thing I'm trying to do is keep all of the electrical components on the
top side of the PCB to ensure that the keys are as low profile as possible.
This is where I'm at so far but I haven't set up any of the connections just
yet: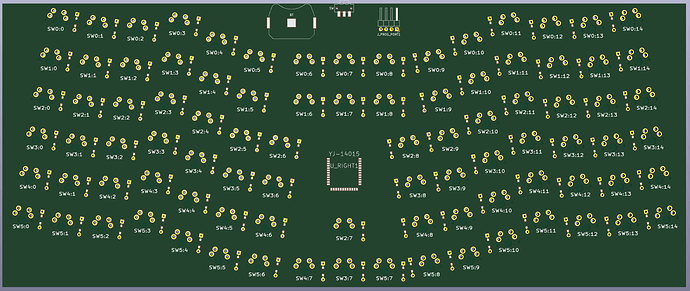 I'll be trying to post my progress but it's a bit slow going as I can only
spend a few hours here and there working on it. Hopefully within a few weeks or
so I'll be ready to order some prototype PCBs.
-Paul