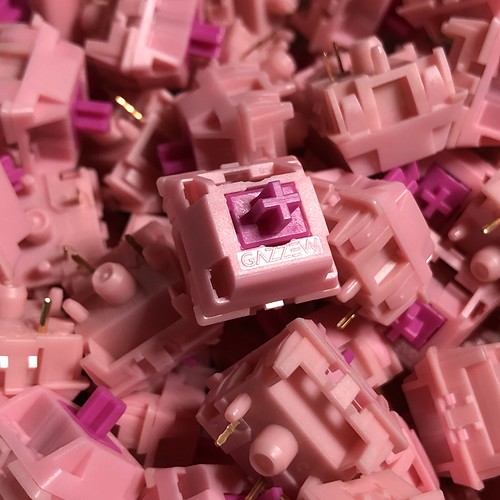 Gazzew does it again.
I got some of these in the mail recently and am enjoying them quite a bit so far - seems as good a time as any for a discussion thread about Gazzew's silent linear.
---
First impressions:
TL;DR: Soft. Fluffy. Bouncy. Pleasant to use and very quiet. Smooth out of the bag, only gets better from there. These are really nice.

Yammering initial thoughts:

The pre-assembled ones are mostly dry, I think - but I did see some sheen on the center post of the stem in one I opened, so there's something there.

From what I can tell, the stem is more or less very similar to the previous silent linear stem, but could be a different plastic. Aside from the color, the real difference between the pink and pearl Boba housings are the leaves, with these being specifically intended for use as linears.

These in particular are actually the lightest switch I've ever populated a board with, having the Korean steel 52g springs pre-installed. While I am making more mistakes and typing more slowly than with what I'm used to, they are quite a bit more usable for me than I expected.

Having tried some "normal" light linear boards in Burst Buoy's gaming department and deciding they weren't for me, I'm happy to be proven wrong yet again by a thoughtful combination of components.

I think the gummy dampeners in the stems go a long way - but these springs are also short bois, which serves to enhance the bouncy feeling. Previously I'd only used heavy short springs (the ping-y ones from Halo Trues), but these light and bouncy ones seem like an ideal pick for this switch now that I've tried them.
---
I'll post more information as I gather it, and of course I'd love to hear what you folks think of these switches.
PS - they turn white light this lovely color: