Hello MechLovers!
Amanda here, bringing you, from the hand of LaserBoost.com & KeyboardPlates.com, this exclusive FREE GiveAway!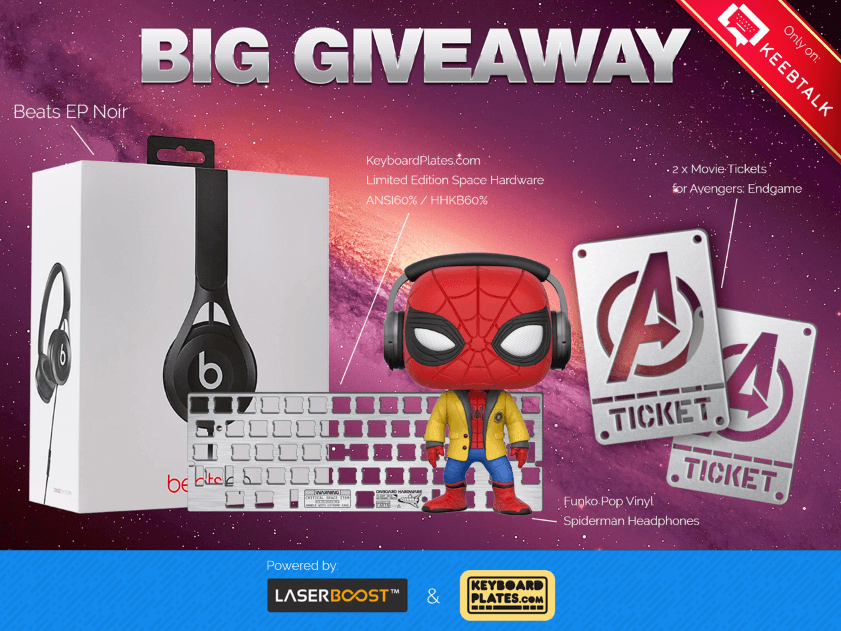 How can I Participate?
Just click the link below and subscribe! –Wait a minute…is this a SPAM mailing list!? Absolutely not

This mailing list will be used to get all of you in touch with exclusive keyboard focused news, promos and other cool stuff by LaserBoost & KeyboardPlates, and you can unsubscribe from there anytime you want

Is there a deadline?
Yeah, You can join the giveaway from now until 20th April

How will the raffle be done?
We will list all your emails in a csv, every participant having a row number. We will use Google to generate a random number. The raffle will be streamed via @keyboardplates instagram, on 20th April, (exact timing soon).
What if I win ?!
We will contact you and ask you for your shipping address to send you the prize and the Movie Theatre of your election to give you an online Gift Card for two tickets

GiveAway items:
- Beats EP – Noir
- Funko Pop Vinyl – Spiderman Headphones
- KeyboardPlates.com – Limited Edition Space Hardware Plate ANSI 60% or ANSI HHKB 60% (the one of your election, worldwide)
- 2 x Movie Ticket for Avengers: Endgame in the city of your election.
Good Luck!
Thanks to all KeebTalk Staff

Terms & Conditions
- If the winner does not respond in 4 days, the raffle will be done again, leaving the first winner with no prize. This second round will be streamed too.
- In the link, we ask for an email with a complete name. We only accept one mail per name and one name per mail. The name has to match the contact person on the final shipping address.
_- Neither LaserBoost or KeyboardPlates.com are responsible for missing or damage to the package during shipping.
Special Thanks To @cijanzen