had anyone tried them out yet?
What an odd choice for the next cap switch… I'm sure the sound profile is even scratcher

They could've sold a lot more without the box.
Huh, I'm curious, at the very least

Is not that expensive as well $18 for 35 switches, thinking about to get them along side with the blue velvet
That's an, uh. Interesting choice of coloring for the housing.
Interestingly, this is actually the second cap brown. Have both the first and these on hand but have yet to take them apart to try to see what changed other than the housing colors.
Some people said the new one have less factory lube, don't know what else is changed
These Cap's have 5-pin, My Milky Yellow Cap's have 3-pin.
Yeah, same: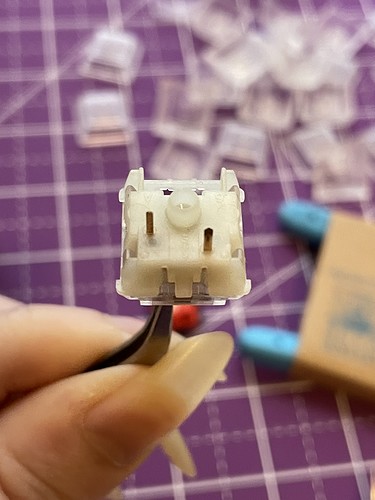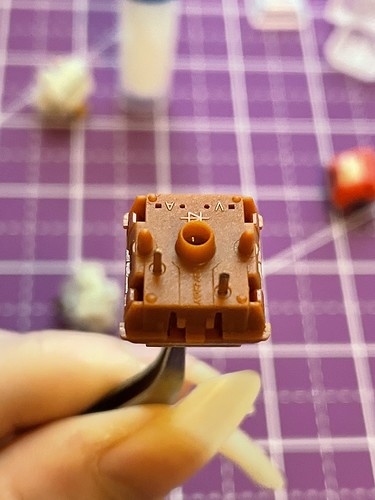 Interestingly, the newer ones I've got have through-hole LED support while the milky bottom ones I've got have SMD LED support only; might be that there are additional variants of each for different LED setups.
I can't really discern any difference between the stems in the earlier milky-bottom clear-top cap browns I have and these newer ones, but the newer ones have longer, gold-plated springs (newer on right)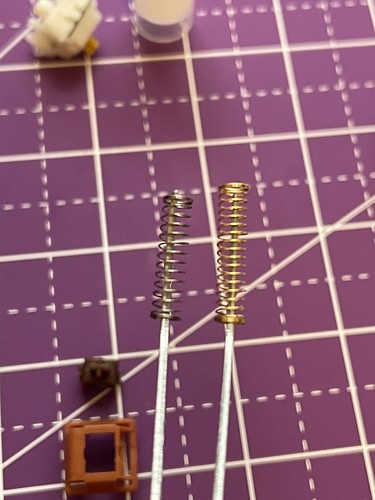 Weird, the milky yellow caps i got from NK were marked 3 pin on the boxes, but the switches themselves were 5 pin. Wonder if I got them by accident, like they were packaged incorrectly or something?
I think is V1 and V2 difference. V1 is 3 pin and the V2 are 5 pin. Likely they sold out all the V1 already
Well it's a mess, and eaven tho I like my Yellow Cap's I will never buy them or any of the Cap-brand again.
Just tried them out. They are really deep in sound. Feel smooth out of the box. There is a little bit of ping but not too bad. For the price and if you like really light tactile recommend to try them out
Wait, they're smooth? The most noticeable thing about the yellows to me was their roughness. If the browns are smooth and have that same bottoming out sound/feel, that might be a winner
I have never try the yellows, but yes, they are smooth in my opinion and sound really good. If the tactility increase a bit, I don't think I will use any other switch. They just sound so good.
How are they compared to normal gateron brown? It said they only differe in materials. But I wonder if they really have the same weight and tactile event
A more pronounce smoother bump compare to normal brown. So the tactile event is a bit stronger but still less than the ergo-clear like switches.
The structure of the switch is different as well so is not just about the material
Thanks, I just ordered some v2. It seems CAP browns also have heavier springs in them. Cap brown operating force is 55g while normal brown only needs 45g. Do you notice the difference in weight?
It will feel heavier, but this really depends on how hard you type