Hello enthusiasts. Do any of you have an interest in optical switches? I do, and have wanted to make custom Gateron Optical switches of my own for over a year. I even bought all of the materials for my project well over a month ago, eager to begin. However, I've delayed actually doing so because of a recent discovery; supposed Gateron 'Silent' Optical switches. The only source I've seen these advertised for sale on are X-Bow's website, where they're currently charging a hefty $50 ($0.45/ea) for 110 pieces:

This seems a bit questionable to me, seeing as they don't have a single picture or explanation about what exactly makes them silent. I sent them an email inquiring further, asking if they might have a picture of the switches or some other resources about them. Unfortunately, I was told there was nothing but this specs sheet supplied directly from Gateron: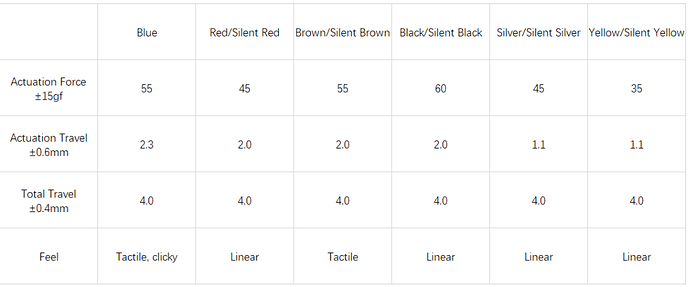 However, I was unable to find a direct comparison for these switch on their website. The only ones that seem even relatively similar are the KS-15 model, but they don't mention silence as far as I'm aware:
http://www.gateron.com/product/19178.html
http://www.gateron.com/col/53504?categoryId=3013&lang=1
These links are in Mandarin Chinese, and this is because less information is written on the English site. I suggest just using Google Translate for this isolated case. For convenience, here is a machine-translated screen snip of the page for Gateron Silent Optical Silvers: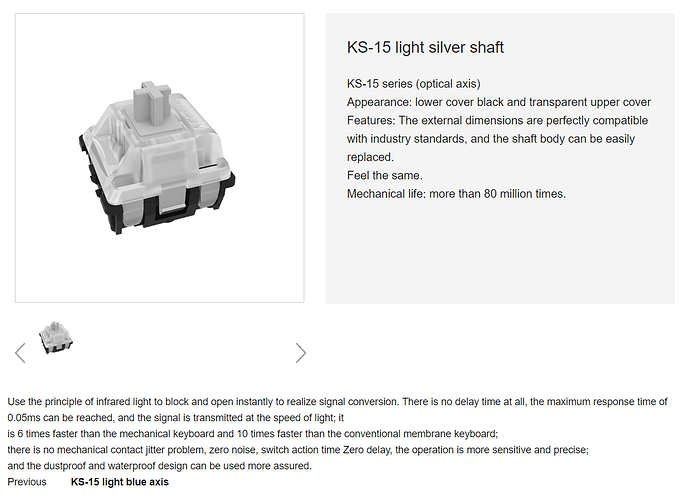 Compare the image in my post to the specs of the typical Gateron Optical switches, as shown here on ePathBuy:
What I found most notable were the bottom-out values. The specs sheet for the Silent Optical switches shows a total travel distance of 4mm across the board. However, the Gateron Optical Silver and Yellow switches (non-'Silent') are correctly listed as 3.2mm. Assuming the sheets are in fact correct, the question is simple: what did Gateron do to the Silent switches to make them different? Did they refit parts from their silent mechanical switches into their optical line? I question if this is the case, since the stems are supposed to be longer than typical mechanical switches, which might mean requiring special molds. Why aren't they even listed on their website, or more easily accessible otherwise?
There are many questions I doubt will be answered too soon, but I thought some people here may like to read about this modest mystery. I encourage you to make a post here, should you know anything about these switches. If you happen to own some, feel free to upload pictures in this thread. Thank you.