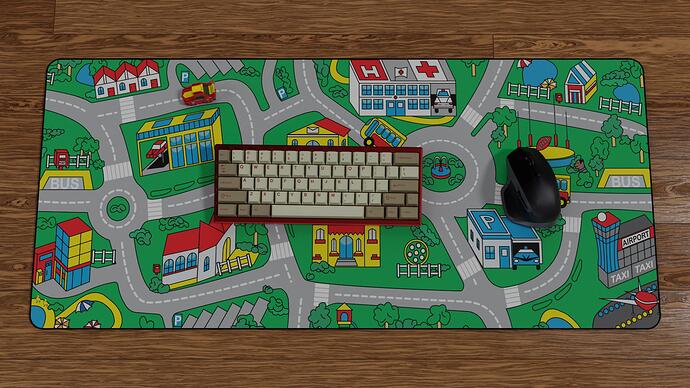 Gallery of renders
- Render includes to-scale Hot Wheels car for comparison to roads.
Designed by a good friend and entrusted in me to run.
Busy Town is a deskmat to feed your nostalgia, a redraw of the classic 90s city rug, you're almost guaranteed to have played on one of these at some point in your life. Dig up the old hot wheels and zoom around, this is sure to keep you entertained during those long zoom calls!
Fun features:
-Classic print
-Vibrant colours
-Most roads are wide enough for a hot wheels car
Proposed specifications:
-900x400x4mm
-'Control' texture
-Black edge stitching
Vendors:
USA - Mekibo
CA - Apex Keyboards
SA - Fancy Customs
EU - MyKeyboard.eu
UK - Protozoa
SEA - Hex Keyboards
OCE - Daily Clack