Meine Damen und Herren, Mesdames et Messieurs, Ladies and Gentlemen…
Ever since June rolled over, I have been thinking how to commemorate the Apollo 11's mission's 50th anniversary.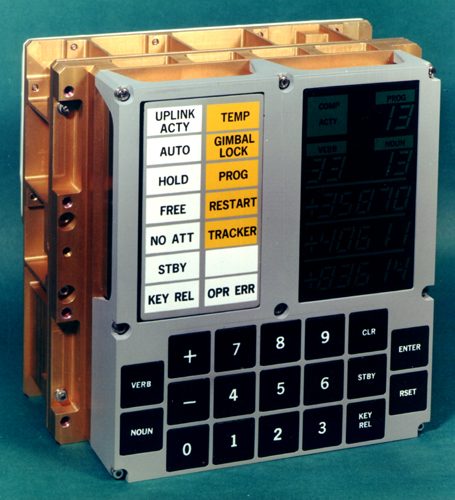 Then I remembered about the Apollo Guidance Computer (it made waves over the internet a month or so ago, because people were trying to prove that Margaret Hamilton didn't write the software for it) and its interface — DSKY (pronounced "dis-kee"). As you can see, the DSKY has a black keypad with white legends, yellow indicator lights, and a green electroluminescent seven-segment display. Commands were entered numerically, as two-digit numbers — called Verb and Noun. The first one represented the action being issued, while the second represented the data that would be changed.
DSKY itself was a starting point, but it did not yet give me a satisfactory colourway. But when I saw exactly how and where DSKY was mounted, I instantly knew what I wanted — subtle, lighter and darker greys, with yellows for the accents.
One of my goals was to use the legends and values from DSKY's various keys and indicators, in place of our traditional legends. This in turn led me to a decision to use stock GMK colours, to make everything easier and more affordable.
GMK Lunar uses a medium 2B gray for the alphas and mods with a lighter 2M gray for legends. The Numpad, which I consider an integral part of the whole design and colourway, uses the darker N9 gray with 2M legends. I also chose N6 yellow as the main accent colour, with N9 legends, where appropriate. The Novelty Kit has a set of optional "Master Alarm" accents — these will be either V1 or RO2 (V1 currently).
(Please note that the keys that you will find on the renders below, have since been modified slightly, so they may not be completely accurate at this point in time. They also have a typo — my bad.)
Without further ado, I give you GMK Lunar…
Renders
GMK Lunar on Austin
GMK Lunar on e-yellow Think6.5
Planned Kits
Please note that the text on the arrows will be replaced by arrow icons. The font is also not a perfect match for GMK's font. These are temporary renders until they're more or less finalized, when I'll get someone who knows what she or he is doing to do them.
Command Module (Core Kit)
Houston! We Have A Problem! (Novelty Kit)
Landing Pad (Spacebar Kit)
Lunar Module (N9 Alphas Kit)
Service Module (Assembly Kit)
Optional Kits (these are off the table — there wasn't enough interest)
Below are some optional kits I am considering, but will not run them unless there is huge demand and you manage to change my mind.
Moon Rover (40s/ortho kit)
Imperial Kit (not yet finished)
Interest Check Form
PLEASE TAKE PART IN THIS INTEREST CHECK: https://forms.gle/CCQo2ZMAt8hmgrXL8.
Misc
The group buy stage is planned for March 2020.
A few vendors are already on board. You're welcome to contact me on the subject.
I'm working with MKUltra to create a full Assembly Kit based on Lunar. More info when I know more myself.
Contact
Changelog & Notes
it should be possible to cover 2 boards with the Command Module + Lunar Module (alpha kit)
two novelties have been re-worked, to better fit in with GMK's guidelines for vector art; Astronaut's Helmet — it now reflects the moon's surface in the visor; Neil Armstrong's Footprint — it's now modelled more on the sole of his boot than on the actual print that he left (shadow and all); currently working on an even better Lunar Lander for the R4 1.5u keys; the Moon will be moved to R4 1u keys.
---
Lunar Lander has been reworked to meet GMK's specs (hopefully). Might not be final yet though.
R4 1.5u Moon novelties moved to R4 1u keys.
Lunar Lander with Flag added to R4 1.5u keys.