https://forms.gle/LtxssRDVAebRjEPv8
ergo keyboards
overpriced.
boring.
hard to find keycaps for.
ugly.
but not anymore.
not today.
today is the day a beautiful new ergo is born.
soon you can cap it with your favorite sets.
the ergo form factor is revived.
introducing…
the
ogre ergo
i envisioned a new ergo. inspired by the original ergodox from 7 years ago.
a kit that inspired geeks to learn to solder.
a keyboard that could be unique and customized just as you like.
split or single, case and keycaps. especially the keycaps
by designing the ogre ergo around a standard set of keycaps the possibilities are truely infinity.
design goals:
an updated take on the ergodox that makes it easier to cap!
designed to be covered by all of the most popular base gmk and signature plastic key sets. lets design the board around the caps not the other way around.
traditional single (think em7 or alice) and split-options available using the same pcb.
70 keys
not going to solve "the legend problem". as ergodox users know its usually very difficult to get legends that match your actual keys on your outer rows. ogre will not solve this. for the most part it just takes a traditional layout with the backspace, larger shift key and enter key moved to the thumb positions and left over matching row profiles moved to fill in those positions. it is intended that the builder customize with QMK (ie you probably end up reprogramming your modifiers)
as a designer i want to put the builder first. this means i am going to attempt to leave you as many options as i can with-in reason.
the pcb:
QMK
gives the builder options on split vs non-split (break away tabs), and outer column caps (all gmk base kits should cover. random cheap tkl kit should cover too!)
single pro-micro for non split, dual for split
pcb not reversible. will be 350mm x 130mm. will use breakaway tabs to split in two.
entry level (ogre waif) and end game (ogre queen) at a later date.
no hot swap other than mill-max
under glow yes
per key rgb - nope!
this needs to be easy for the first time build to solder. pro-micro and all through hole soldering.
the case (ogre waif):
sandwich style acrylic in the tradition of the original ergodox.
top and bottom layers will be offered in multiple colors. you can pick multiple. so you can swap when you get new caps. middle layers will be clear.
looking at options to have a completely flat surface (no screw holes in the top plate using some type of acrylic glue, maybe magnets?) top layer will just be for looks and plate or inner layers will be secured with screws.
thinking about wood option plates that can use color matches from a paint store on pantone colors with high gloss finish. think electric guitar finish. match those caps primary colors perfectly!
tenting options tbd
end game (the ogre queen):
i do plan on a cnc'd aluminum end game version of this at some point but the initial focus will be on the waif and getting people new to the community an easy to build and customize kit.
roadmap:
if this goes well i will take the ogre to end game
two peice cnc'ed acrylic and wood cases
on the way to endgame, there will be other models.
an ortho-linear version
a staggered version
a fullsize version (the ogre king)
a hotswap/rgb per-key 'gamer' version (the ogre thief)
the philosophy:
< $100 for the waif. leave that money for those custom cap base sets.
i want to give back to this awesome community and get this form factor out there.
i plan for this to be a very iterative process. it's not going to be one big group buy.
why the name ogre?
its inspired by the asymmetrical nature of the ergo form factor. ogre ergo. ergo ogre.
and my love of fantasy role playing games
prototypes:
i have created several prototypes including one which i've used as my daily driver for the last month or so. pictures below.
initial wooden prototype
tkl plate prototype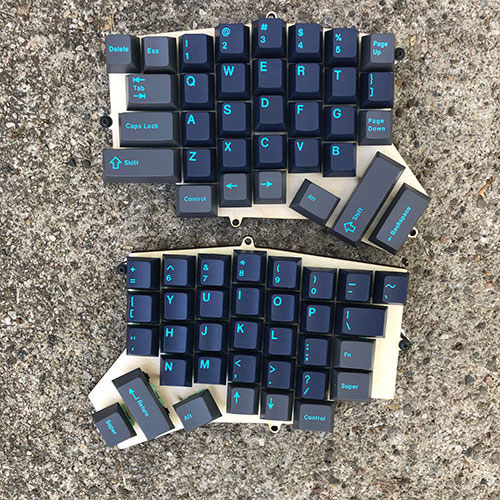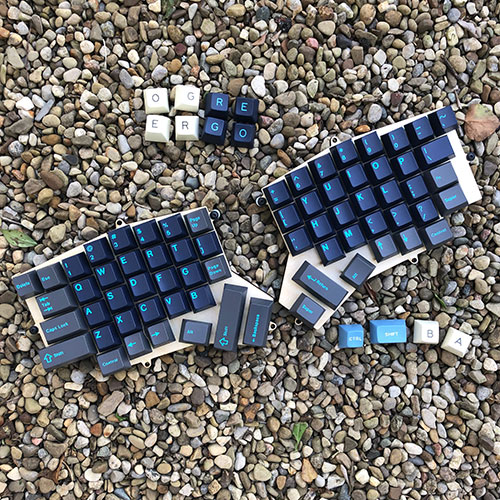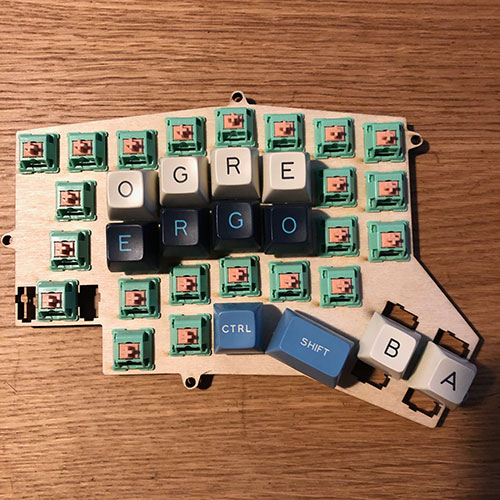 single pro-micro prototype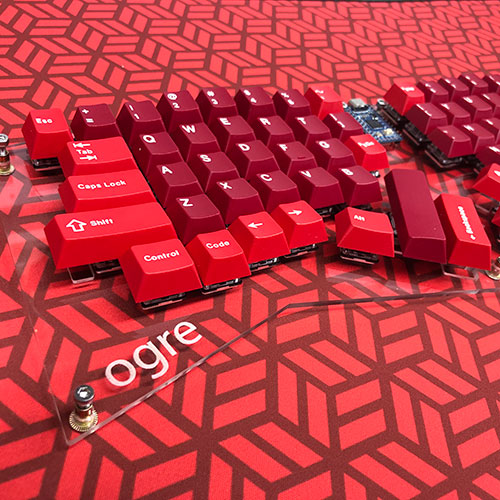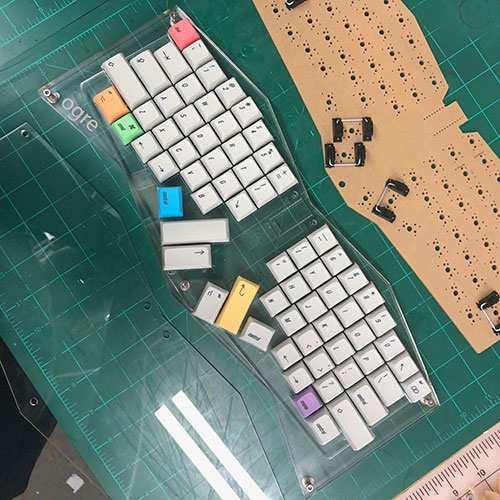 final hand-wire prototype. before pcb prototype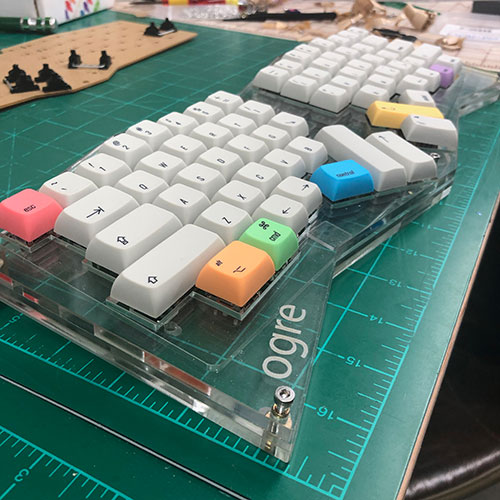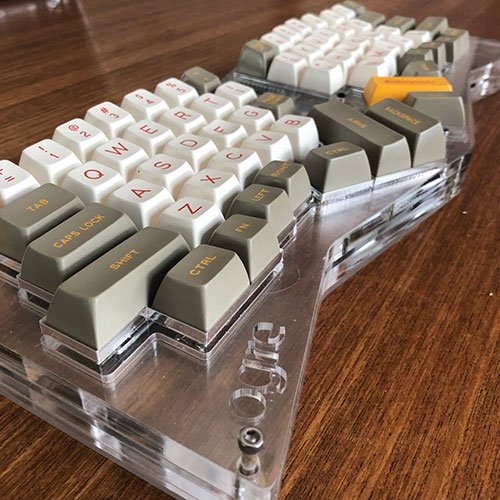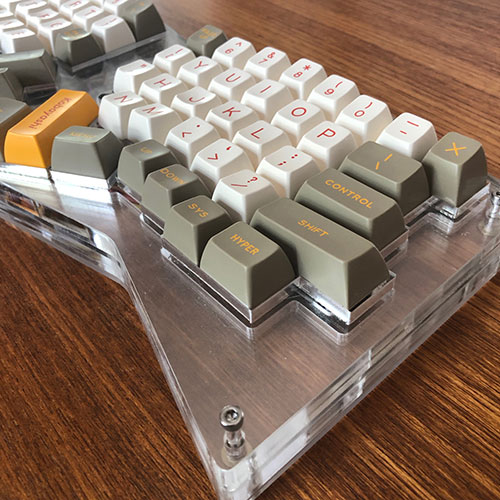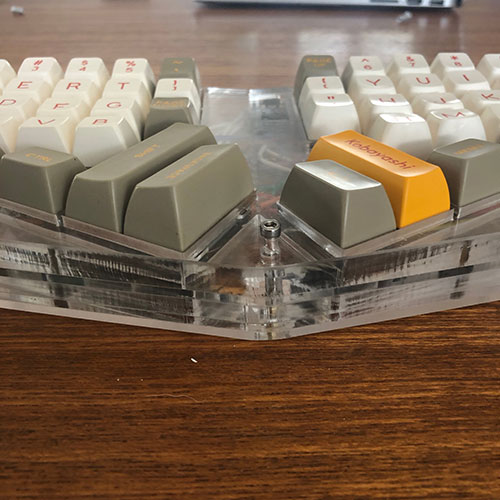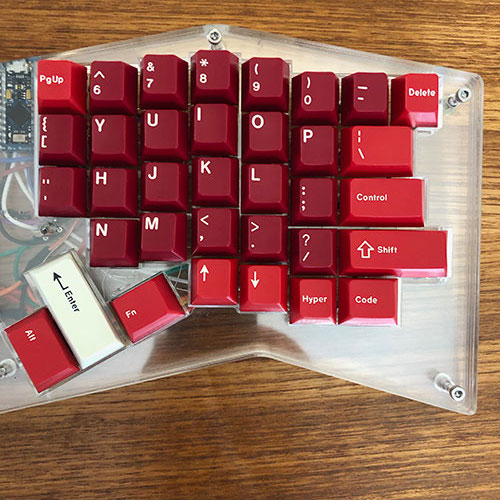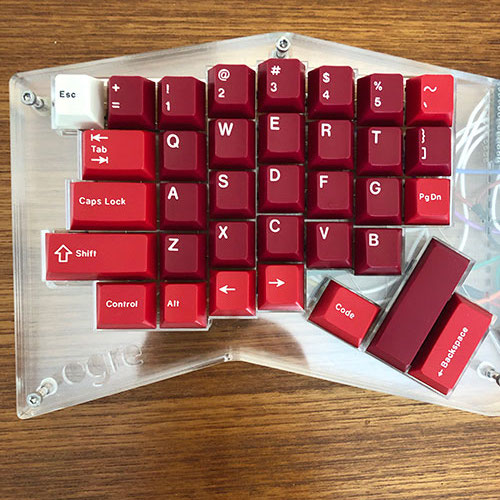 the pcb prototype
layouts
70 key. requires extra a 1.5 modifier, a R3 1.75 ctrl key and a R4 2.25 shift

68 key. tkl keys only.

support

https://ctrlshiftba.com

follow me on instagram for updates @ctrlshiftba
join my discord

https://discord.gg/KRB3A9a

fill out this form if you're interested
https://forms.gle/LtxssRDVAebRjEPv8
todo
design split case
design slim bezel case
add underglow to pcb design
add pcb art
pcb prototype round 2
checkout my sister project - gmk ogre

update history
2019-08-02 - IC launch