GB is opening soon. Here is the information
Hey my keeb friends, it's your boye oldcat here, to present a design in collaboration with airpotter from Gray Studio.
Krauth summarized René Descartes' philosophy succinctly, "That cannot doubt which does not think, and that cannot think which does not exist. I doubt, I think, I exist." As a fan of and heavily influenced by Descartes' Philosophy, I combined the key term with some design choices of this board, and named it "Think6.5°".

THINK frame in my study room
Think6.5° has been more than 3 months in the making, and the prototype is currently being made. I think it is a good time to gather some final feedback for a potential production version. My original plan was to make about 10 boards (at a relatively high price) for myself and friends, but PCB maker is not willing to just make 10. Potter asked me about doing a GB to lower cost of production, if enough people in the community are interested. So here it is:
Motivations and Design Choices
It is a design that I had for quite a while, that combines many good elements from all the top-notch 65% boards I own, trying to optimize and come up with an ideal design, for my own taste. 65% keyboards comprise a significant portion of my life out of the busy work schedules, and some of you have probably heard of and joked about my owning many Canoe boards. Indeed, the amazing designs like TGR910, Canoe, Zephyr, etc are the true inspirations for me, and I am trying to come up with a design that looks good and also optimizes typing sound. The final two candidates are 4.5mm PC plate vs. a gasket 1.5mm aluminum or 1.5mm brass plate. In our testing, thicc PC plate stands out.
From the typing sound perspective, we adopt a thick 4.5mm PC plate integrated to the top plate, PC helps to preserve the sound of the switch while simultaneously maintain typing consistency. No metal rattling or high-pitched sound from thick aluminum or brass.
I have always advocated for affordable premium-quality boards. Gray certainly shares this value. Therefore, for this board, the pricing will be very affordable and competitive compared with current offerings in the market, as per the tradition of prior Gray Studio GBs. Personally, I will promise you that as a designer I will not take a single dollar of profit out of a potential GB, the money will go to high-quality material, best processes, and Potter's and our PCB designer's manufacturing costs and operating expense.
Angle will be 6.5 degrees, hence the name. In my experience, 5° is a bit flat (feels ok), and 8° is too steep, so why not 6.5°, it feels good.
It will be PC only. Currently I do not have the intention to make an aluminum case, I believe there are many good aluminum board options in the market. If there are many requests, we will do a slight modification to make the metal version either top mount or gasket mount, shouldn't be too much work as we have other top and gasket designs already.
A high-quality, good looking, hotswap, QMK, Type-C PCB with underglow is being developed and will be included if this ever goes to GB stage. I know god-like Wilba's PCB is hard to beat, but our goal and material and process we use for this PCB will be that kind of quality.
TL; DR, What are the Features?
Premium-quality, affordable Polycarbonate (PC) board, different colors of PC material is being considered
6.5 degree angle
PVD Brass Badge and PVD Brass Weight
4.5mm, perfectly-cut PC Plate optimized for both the sound and consistency with most switches (not your regular metal integrated plate!)
Three versions: ANSI Hotswap with badge, ANSI hotswap without badge, Compatible-layout non-hotswap
PCB is QMK, type-C (connector position in the middle), underglow, ESC key 4XRGB, hotswap (non-hotswap PCB for compatible layouts). Shooting for Wilba quality, let's see.
GB price estimation (1case, with or without brass badge, 1brass weight, 1* PCB, 1*designer box, accessories): under $300 , looks like after redesigning some parts and adding compatibility etc cost is going up quite a bit, but I will honor my promis for being pro bono, and hence this pricing for this particular GB.
A few ready-to-ship, non-profit raffle spots to share my love with this community: estimated around $250
Design: oldcat and airpotter
manufacturer: gray studio and factory
Compatible with PCB screw-in stabilizers
Supported Layouts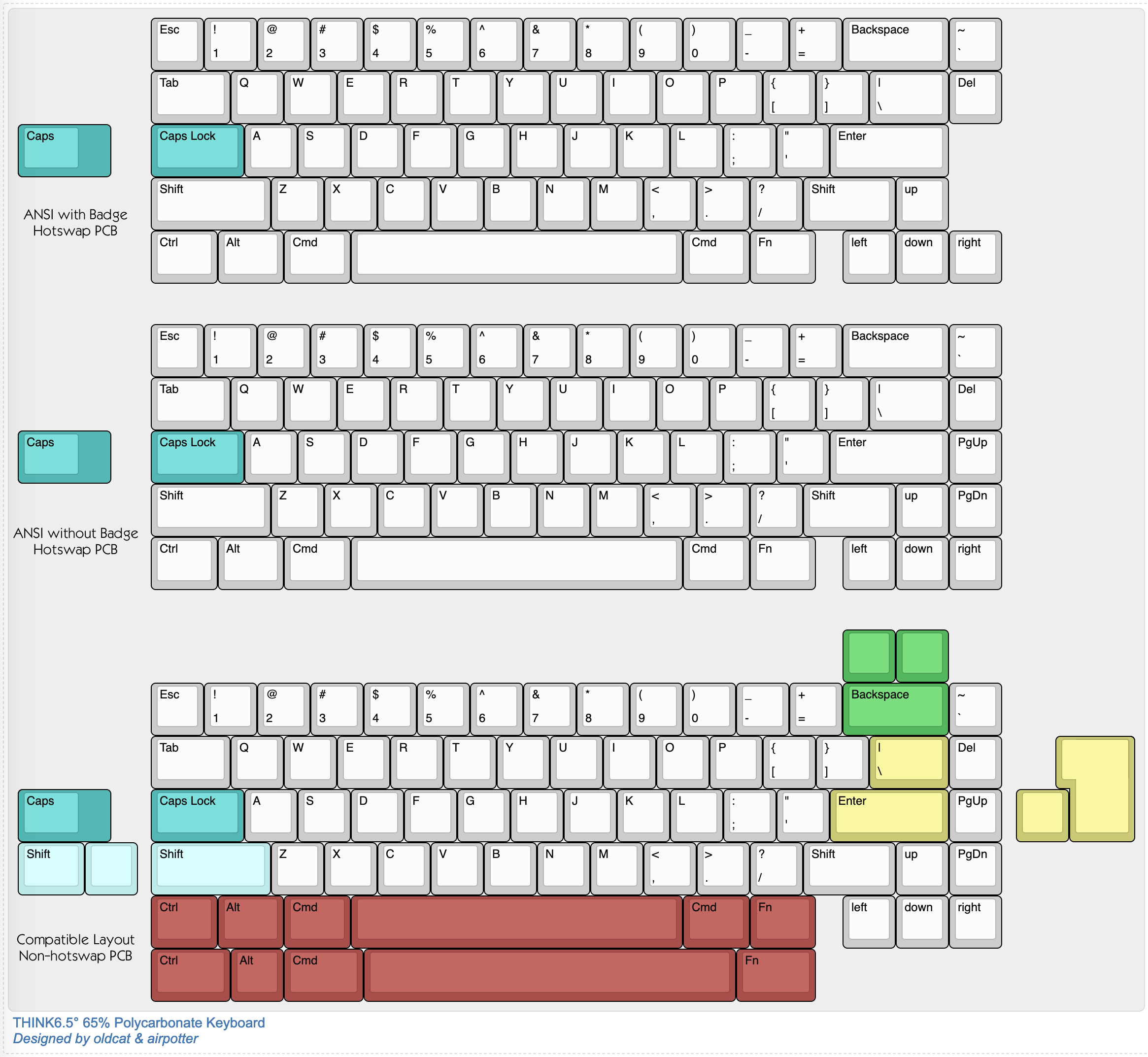 Please fill out the Interest Check form, with polls:
https://docs.google.com/forms/d/1KRWAYYYrB1h_g5ScqGBNsXAQZ2xYPu9bjIPLAIRx--4
Planned Timeline
Soon: Raffle
Late March: Regular GB
Progress:
2/28/2019:
1.Case: Initial design complete, prototypes production in progress, eta 1-2 weeks. Will make multiple prototypes regarding badge placement.
2.PCB: Design complete, prototypes production in progress, eta 2 weeks.
3/1/2019:
Sincere thanks to so many friends who have filled out the IC form! Based on the feedback from the first day:
1.Confirmed that we will make 1 case with badge (badge placement TBD), and 1 case without the badge. The blocker near the arrow cluster will stay.
2.We are exploring different colors of PC materials.
3.We are working on simplifying the bottom brass weight.
4.Most likely a second non-hotswap PCB will be provided either as a kit bundle or as an option (TBD).
3/2/2019:
new renders updated
PCB design posted
Received additional feedback and working on them
3/3/2019:
Badge with 3 upper indicator light has been adopted.
We will provide different colors of LEDs for the indicator lights, and hotswap SIP led sockets
Confirmed PCB design for the build-in 4XRGB circling on the ESC key.
Stepped capslock will be compatible
Font orientation on the badge being tweaked
Finalizing weight design and send .step file to factory
I believe we have addressed most concerns and feedback so far, and any additional feedback welcome.
Confirmed a third case option that supports compatible layouts (7u space, ISO, split BS).
3/4/2019:
Still working on refining the badge (alignment, font orientation) and the weight (some don't like the horizontal stripes, we are coming up with a better design). Rendering software hung a few times, it was frustrating and maybe time to get a new computer
Decide that we will make the badge's 3D model opensourced after GB, so that participants can make their own badge and print out with other materials. Default brass badge will still be included for

#1

.
3/5/2019:
Redesigned weight plan is out. Gather feedback to finetune
Renders for our meticulously-designed 4.5mm plate is out, optimized for all MX switches including Holy Panda
Badge design has been finalized. Still working on weight design (overnight).
PCB design finalized.
3/6/2019:
Weight and badge design completed.
PCB sent for prototyping
Cases sent for prototyping
Links of interest
Follow me on Instagram
Chat on Discord Channel
Support your boye OldCat and this project by sharing THINK6.5° to your community friends!
More Renders
This ESC 4XRGB mod is a must-have in the Chinese enthusiast community, now we make it built-in!

3D Print Prototype Images:

CNC Prototype Images (To be received)