I finally did it: I built my other Feker keyboard with the NK Muted Jades: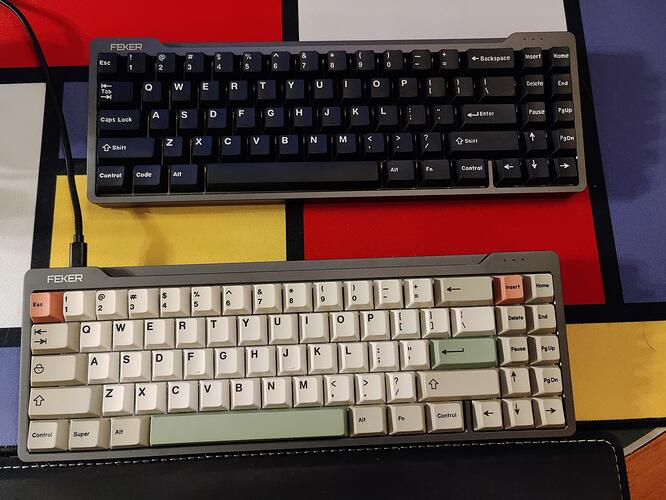 And, I have to say this: it's waaayyy worse than I thought when I was playing with the switches in my hands.
These two keyboards are pretty equal, obviously the same case, PCB, plate. The key caps on both of these boards are PBT, the same quality and the same thickness (as far as I can tell without a caliper to measure).
And, I couldn't have been more stunned and disappointed when I tried out the Muted Jades. In fact, I thought that I was hallucinating, I couldn't believe it. To me, the Muted Jades feel and sound like Cherry MX Browns. I'm not saying that for the meme, I mean that literally the tactility is so diminished on the Muted Jades that I can barely feel it.
So, my first thought was: well maybe these key caps just different enough that it's changing / masking the tactility of the switches. So, I swap the h, j, k, and l caps between the keyboards. Nope, the tactility is still there on the keyboard with the Box Jades, while it's almost non-existent on the keyboard with the Muted Jades.
So, then I grabbed one of my cheap keyboards that has actual Brown switches (I think they are clones, and not real MX Browns). And, side by side, the Muted Jades have a little more tactility than a Brown clone, but not by much. I'd in fact have to recommend these as a replacement for MX Browns.
So…has anyone else actually done a side by side comparison of Box jades and Muted Jades in a build? If so, what were your results?
Addendum: I'm still going to try to use these switches for a few days to see if I can get used to them. But knowing how I feel about MX Browns, I don't have any real hope that I will enjoy or come to appreciate the experience. Personally, I'd rather use CS Lavender Purple's if I want tactile switches (or maybe the Jelly Sponge's - I still have to test those.)
After I've finished with this test, I'll probably re-build this keyboard with the Box Blue or Box Dark Blue switches to compare to the Box Jades.