I just cleaned up my shelves quite a bit and then properly organized them.
First is the 60% shelf!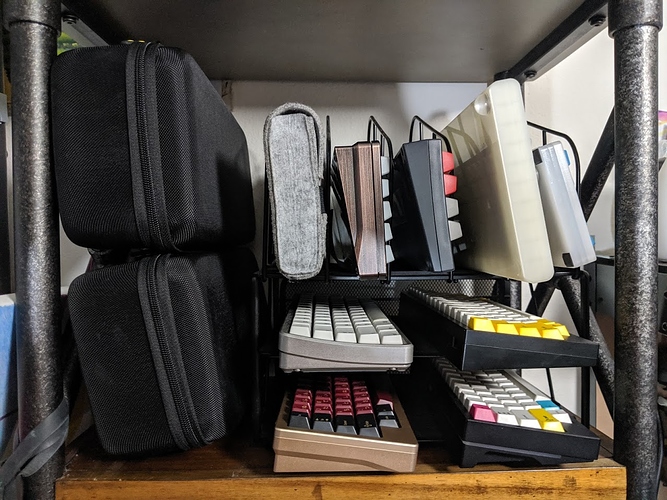 In the two TX cases, are my E6-v2 FE, and my TGR 910PC (not 60%, but it fits best here)
In the top row from left to right, there is the Leaf60, TX60, HHKB, Futura60, and GON NerD60
In the next shelf there is the SS AEK64 and the X60
In the bottom shelf there is another TX60 and a Duck Viper
Next up is the TKL shelf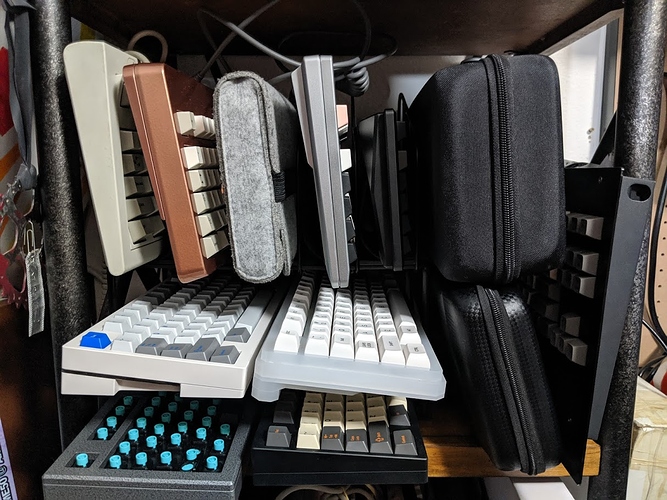 In the two cases there is a TGR Jane v2 and a Mira TKL. Next to them is a RF87u with a custom case.
In the top shelf there is a Model M SSK, a Norbaforce, a Verne, a JER-A06 (aka J80), and an Elemento FR87.
In the next shelf there is a ALF X1.1 and a Duck Unicorn (Acrylic)
On the bottom shelf there is a Norbatouch and a Time TKL
Lastly, the "etc size" shelf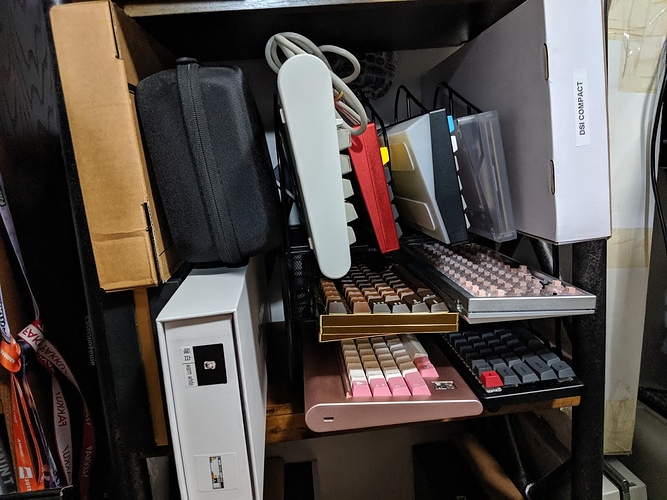 In the boxes and case there is a G80-1800HEU, an Alice, a Zephyr, and a fullsized Varmillo EC board.
On the top shelf there is a IBM Pingmaster, a Meme, a Kira96, a Singa, and a DSI Compact.
On the next shelf is a E7-v1 FE and a KBD75.
On the bottom shelf there is a CA66 and a nightfox.
This is all of the boards I'm able to cleanly organize so far. I have quite a few other boards under my bed, in storage bins/boxes, and just laying around in general. I have one more shelf I can organize in the same manner as 3 three shelves which I'll probably do next.
I still need to build and add my TR60 and Unikorn to these shelves somehow -_-. I also technically must always have 1-2 keyboards out to have space for my keyboards. When this picture was taken I was using my Lubrigante.