Ohhhhhh man that's awesome. Going to make me go broke.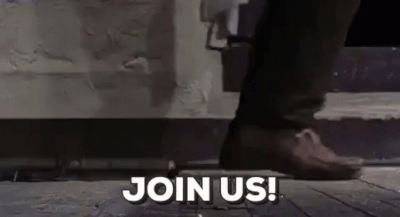 Two 2000 IBM Model M9 RANPOS Keyboards (P/N 86H1075)
Arrived today were 2 IBM Model M9s with a couple of cables! The IBM Model M9 was one of five keyboards IBM introduced in 1993 as part of the Retail Point of Sale (RPOS) series of buckling sleeve Model Ms for IBM 4690 series POS Terminals. The M9 was officially called the Retail Alphanumeric POS (RANPOS) Keyboard. Unfortunately, one has case damage (I knew in advance) but the plastic piece that broke off was included so I should be able to glue it back on.
These ones are an early USB model (they were originally RS485 serial-based) made by Maxi Switch for IBM, not long before IBM moved their production to Asia. Characteristic of RPOS keyboards made in the Americans (in this case, Mexico), it has dye-sublimated PBT keycaps and a keycap mount borrowed from IBM Model M6/M6-1 (early ThinkPad keyboards). Regardless of region/language, all M9s had ISO-style enter keys but this US English P/N 86H1075 specifically had an ANSI-style left shift.
USB M9s could have two cables - a normal 4-pin IDC (keyboard side) to USB cable or a 4-pin IDC to 12V PoweredUSB cable (what's pictured). PoweredUSB is an extension of Type A USB with four extra pins for higher voltage delivery, which is useful for various POS equipment that need more than the standard USB 5V. However, this keyboard doesn't actually need the extra power, so you can simply cannibalise a USB extension cord to hook it up to a normal USB port!
Updated the copper Mode Sonnet build and finally think I got it to where I like it, before I do something drastic like sending the rear weight off to be etched and/or patina'd.
Mode Sonnet
Build Summary

Case: E-White, copper rear weight, copper internal weight, brushed copper accent

Switches: Mode Obscuras (mechanically broken in to 250K actuations, lubed with GPL205 on sliders and GPL105 on springs)

Stabilizers: Staebies v2.1 (G2 on housing/sliders, XHT-BDZ on wire)

Plate: POM

Config: "stack mount" using Sonnet plate foam as rear PCB foam

Keycaps: NK_ Cherry Copper PBT

Artisans: (Left) CADLabs Copper Patina "Skeleton Key"
(Right) Shibui Labs polished solid copper R4 keycap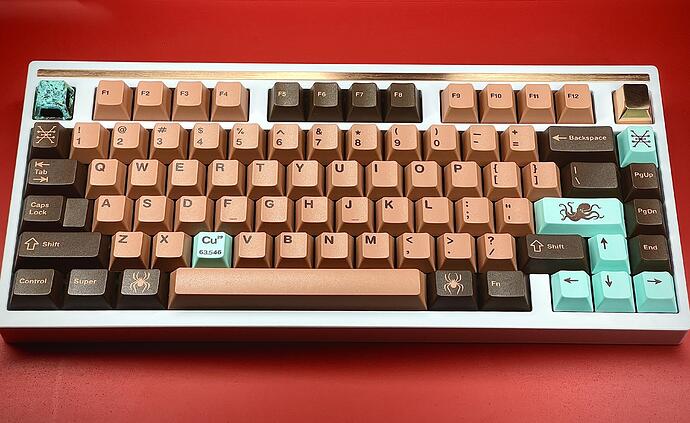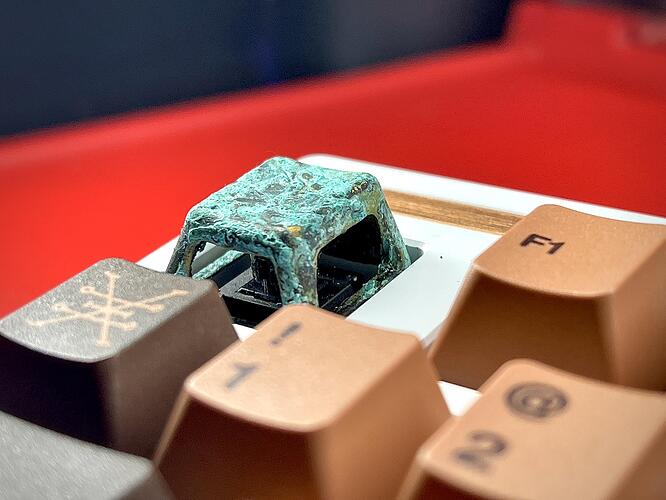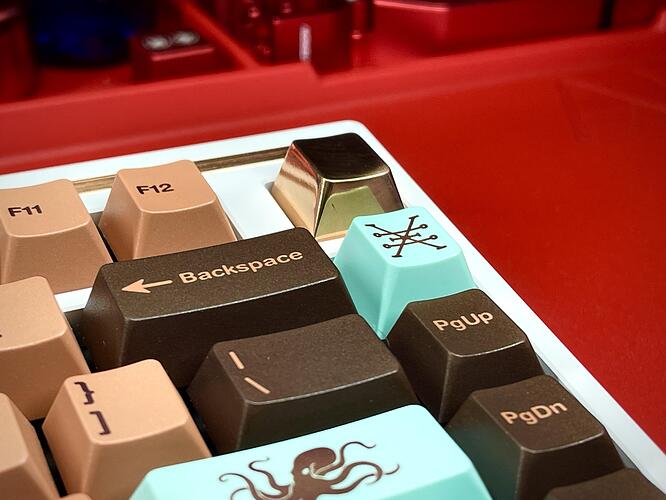 Late night and morning pics.
Another one back in the rotation. This is a project I've been working on called MB-TKL. Mostly an experiment on the layout, but the idea was to have a 12.75u main cluster, all 12 F-keys and TKL like nav and arrows. It's a funky one, but it's a lot of fun and comfortable to use.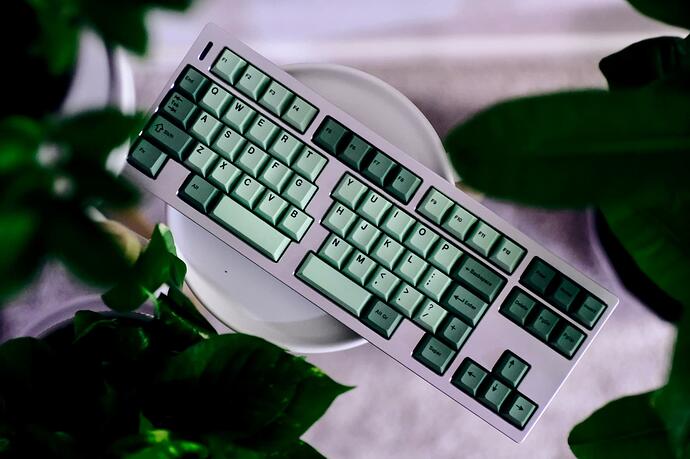 I love quirky, one-off boards like this! The negative space dividing the key groupings may be the most thoughtful I've seen on any board in a long time. Nicely done and thanks for sharing!
Not sure I could handle the layout but very nice board anyway, congrats !
Very cool layout! As an Alice enjoyer I can definitely get down with this! How have you been liking it so far?
I'd say it's worth it for the Salvation, especially if you are just getting into the hobby. It basically takes the accessibility of standard tray mount 60% PCBs/plates & adds in the typing feel of a premium board thanks to the genius mounting system. Definitely a very versatile board with a great typing feel IMO!
I will definitely go on record that the Salvation is completely worth the price tag (IMHO) simply because for the fit and finish of the case and the typing sound and feel.
Salvun + Wilba is a knockout combo, and I always have the Salvation in my rotation of boards. You will have to pry this board out of my cold, dead hands…
I really love the layout. 12.75u 40% layout is perfect for my normal use, but the split really makes it a lot more comfy for me. One thing that took me a bit to get used to was forcing left hand B, but I got used to that pretty quick.
Ribbit. Love it! That's a keyboard that means business.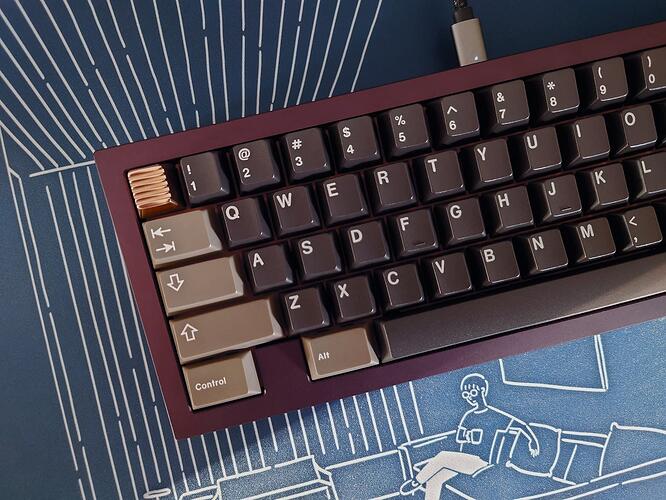 Iron 160 Plum WKL, Copper base, accent weight & plate
GMK Cafe Dark Alphas + GMK Ursa Mods + Thermal R2 Rose Gold Artisan
Built my Salvation yesterday - can't get enough of the color

really enjoying the feel of it.
Copper Slag, full plate with Hyperglides with 55g Slow Sprits and DCS Reaper.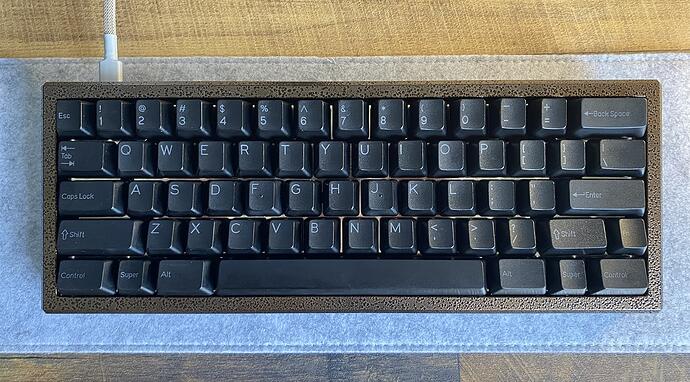 The feel is one of my favorite things about that finish as well! Looks great

To you mean being textured and smooth to the touch at the same time ?
Yes, that's the beauty of most powercoat resins