These seem to have decent optional dampening materials from the videos I've seen.
I thoroughly enjoy my u80-a. It's the first board I've ever built and immediately contemplated purchasing another.
I love the off white "soya" color this round, but I'm not sure it makes sense to buy one since I already own the milk white color. Too similar.
TLDR: highly recommend if you are considering.
I don't need it I don't need it I don't need it…
I'm on the fence and curious. In what ways is such a board superior and justifying its asking price?
On the one hand I've exhausted my keeb budget of the month (which was puny for custom standards to begin with), but OTOH don't want to miss out on the GB for something I might learn to want in a few months anyway

I love the look and feel of the thick bezels. I also like the seamless look. The long flat rubber feet are more unique than bumpons. The finish on my board is immaculate. The mirror polish pvd coating on plate and weight is beautiful. The "mute" dampener feature gives the board a very even sound in all regions of the board. The RGB per key is nice if you like that kinda thing. Hotswap option is also nice if you are like me and hesitant to commit to a switch for a premium build. VIA programming is awesomely easy and fast.
These make the board worth it for me.
I'm also considering it, however it seems to be missing support for ISO layout, which puts it kinda into "meh" category for me (I can use ANSI without any problems, just prefer ISO).
Additionally, looks to me like the typing feel should be pretty stiff.
Maybe @pixelpusher can comment on this?
definitely not stiff like a tray mount, but not as flexy as something my my Unikorn or Sirius.
The mounting method is interesting. I would describe the feel as a slightly dampened/cushioned sandwich mount.
For me, it's the perfect middle ground. If you like flexy, it is not going to suit you.
Can you please comment on the hotswap quality?
I've had some bad experience with Kbdfans hotswap boards (Kailh sockets breaking etc), would imagine Rama did a better job with the PCB?
Same here.
Same here.
Main point is that I wasn't sure about the color back then and have chosen Moon Grey as it fits with more keycap set colors than Kuro Black and because I already have quite some keyboards with all black cases.
I'm though annoyed by the polished weight, so I'm now thinking about the Kuro Stealth variant.
And I have several places where I can need a good keyboard (like home and work), even if its a keyboard similar to one I already have. At least that sounds like a good excuse for any second similar keyboard.

And I definitely need to try one of these upcoming KATE keycap sets, probably the Yolch (Yolk on Dolch) colorway: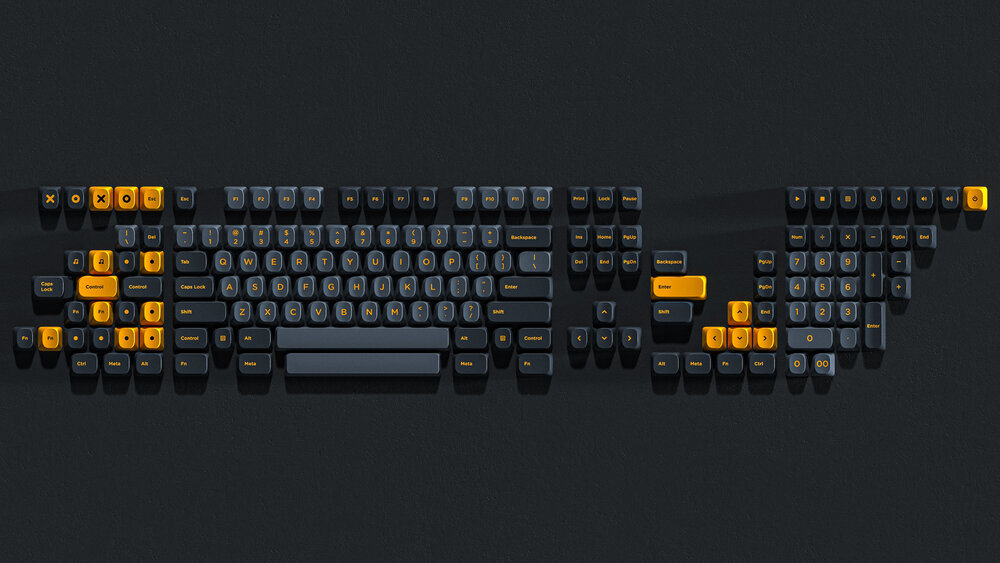 But they don't seem to be available yet.
Same here.
Same here.

I'm always careful b/c I've broken a few sockets on other boards. I take it apart when I want to swap out the switches so that I can support the socket with my fingers from the back. My M60-A wasn't so lucky when I first got it. I put them in from the top of the board and one ripped off. I think it's just a flaw the the design of the kailh socket.
I'm just not a fan of TKL, or rather I'm a huge fan of 65%. Since having to work from home indefinitely, I've been optimizing my home desk and the smaller the better. Given my profession I can't remember the last time I used a num pad. For the price (and the wait) I think I'm going to pass.
That being said, Rama really knows how to make a beautiful board.
I so far only had a single broken out Kailh hotswap socket. No more sure in which keyboard it was. Could have been on a Xiudi XD75 (probably from Kbdfans, bought it used), on one of my MiniVans or on a hotswap DZ60 (from Kbdfans). I just remember that it was a key in one of the bottom corners and only one side of the Kailh hotswap sockets had a cold soldering joint—the socket still had electric contact, but the inserted switch pushed the socket aside as it was loose on one side.
But I neither had broken out Kailh hotswap sockets with my U80-A (didn't switch switches their yet) nor with my GMMK TKL. The latter is my switch bitch and a rather low-budget keyboard, so it seems as if soldering Kailh hotswap sockets can be done right. And I usually try to by keyboards with hotswap sockets, if available, and for that only having had a single broken out hotswap sockets sounds as if this is a rather seldom issue.
But yes, given the fact that the Kailh hotswap sockets are SMD soldered onto the back of the PCB, pushing in any switch pulls on the soldering joints and might tear them apart.
This does not happen with Millmax sockets which are pushed into the pin holes from the upper side of the PCB until their crown sits on the PCB and then they're soldered from the bottom side. (I though don't know any keyboard equipped with them ex works.)
U80 is so tempting, but also KARA is coming up. Can you elaborate further on the typing feel? How it compares to gasket mount/brass plate?
It's tough resisting the nostalgia for Sony SPORTS gear Yolk conjures up, but I think Sage will be an excellent pairing with GMK Sloth.
I'm very happy with my U80. Definitely recommended.
Don't forget you have till October to decide. So no rush on this.
A month ago I told myself that I wanted to shake things up with a TKL…
Yesterday I told myself that I would not be buying any more boards this year…
Today, I'm picking between the Yolk and Sage.
Great looking board and some great feedback on Rama.
Trying to decide between Kuro and Moon.
No really sure if Moon is silver or grey…