After repeated (friendly) requests from friends in the community, I'm working on an after-market housing for the Leopold FC660C keyboard, a sub-TKL board that enjoys the use of Topre switches (and thus a cult following). My primary design objective—i.e., fun—on this one has been to accentuate the compact nature of the board to make it feel formidable—aka heavy AF. More on that below.
First, let me just say: if you're down, please fill out my two-question survey to indicate your interest.
Design features:
The Heavy-6 has a native slope angle that matches that of the FC660C (without its flip-out feet deployed).
All units will come a PVD-coated steel back plate, which roughly doubles the weight of the housing.
An unusual contoured profile along the side, a riff on what I did with the popular Norbaforce design.
Custom-molded rubber feet that maximize surface area for a nice grip, again based on positive feedback I've gotten on the Norbaforce design.
The sub-PCB sits on standoffs screwed into the rear cover. This is Hasu-controller compatible.
At the suggestion of @olivia and others, I've decided to add a maker's mark badge for the first time. This will be metal and enamel and centered on the rear of the case. I'm still working on the design and sourcing of this but will post renders/photos when I have a better sense of the approach. See below for a preliminary notion.
Things that, in my opinion, don't really make sense, so no need to suggest them.

Centered USB port (internal cable won't reach)
USB-C
Prototyping
After many weeks prototyping in SLA, I moved to metal
Tentative finishes/options
(in ascending order of cash-dollars)
Heavy-heavy
Just the aluminum version (this is a prototype) is pretty hefty.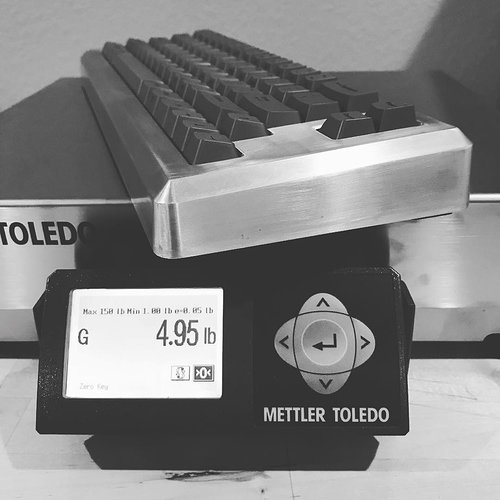 Note that, based on feedback at the late GeekHack, I've slimmed down the profile a bit so it's not quite as tall. I should have full pics of all finishes in the next couple of weeks. In the meantime, here are a couple to give a sense.