Hello keeb lovers,
My previous project, the Winghead, finished months ago and I really enjoyed the design and craft work implied.
The end result was not perfect but a significative improvement over my first attempt, the Simply96, and I enjoy using it everyday at home or at work (so is the case for my brother who has one).
Roughly one year has passed since this project began at it is now time for me to start another one!
I try as much as possible for my keyboard frivolities to at least benefit my close family, this time is no different.
My two daughters turned 15 this summer and will soon each need a computer for their homework.
So why not also offer them a special keyboard to go with ?
After discussing their needs and the layouts they'd want we decided on a 75% like layout.
The Manta75 project was born.
The name comes from the 'manta ray', a big and majestuous fish that you can find in the Pacific ocean.
This keyboard will be second of the 'Sea Collection' (the Winghead was the first), trying to find inspiration from the marine species.
The first work was to define the layouts using KLE.
I wanted to physically separate the different key groups, and most importantly the arrow keys.
I did liked the Satifaction75 layout and took inspiration from it but not the knob so a simple key is replacing it, a nice place to put an artisan for example.
Here is what I came to: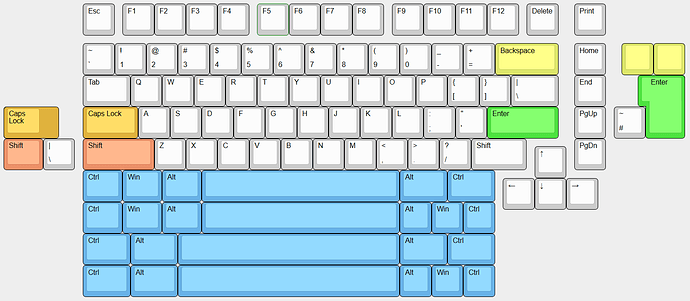 Now onto the goals in mind.
The PCB design (already started)
Functionnality will be as basic as a keyboard can be:
QMK and VIA compatible
No leds.
ANSI and ISO compatible.
My previous PCB design focused on reliability and not on look.
This time I'd like to push myself more on making a nice PCB, having the minimum of functions on the board (the reason of no leds) will ease this task.
Let's make a good looking PCB this time!
The case
The design has not started yet but would like to keep and improve on what worked great on the Winghead:
Limited void space between PCB and bottom case, is 3mm on the Winghead.
Sandwitch mount.
Leaf spring design.
As low profile as possible for a high profile, front height is 18mm for the Winghead with bumpons.
A reasonable slope, Winhead is 5 degree and may like to increase it a bit, 6.5 degree to an absolute max.
To my mind the biggest success of the Winghead is it's sound signature.
There is no hollowness and no metal ping, the sound is a nice 'thick' with GMK caps, and more 'thock' with higher caps like MT3.
This is also quite a silent board even wihout silent switches, probably the most silent board at my work office (were MX browns reign supreme).
I really want to duplicate this result on the Manta75 this is why I intend to keep most of its features.
See you