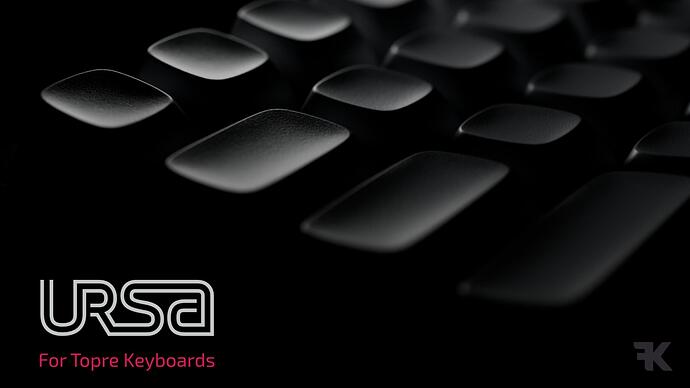 It's been a long time coming but Topre keyboard users are finally getting what they deserve: nice keycaps! This new profile, designed by the talented u/23_Andreas, is a spherical sculpted keycaps profile for Topre keyboards. You heard that right, no need to mod switches, or mount weird adapters that may ruin your keyboard experience, URSA keycaps are injected with Topre-compatible stems. And the best part is they are double shot PBT, which is basically the best option out there to get crisp, perfectly aligned legends and vivid colors.
If you didn't remember, Andreas posted about it back then in another post (some info over there are now outdated!).
While we are figuring out the details, you may subscribe on our website to be notified when news come out. We'll be having a survey very soon, to present the first colorway and make sure we know what colors/layouts you want or need!
Here is what we know so far:
Topre stems (of course)
Doubleshot PBT (the crème de la crème)
Compatible with HHKB, Realforce and Leopold keyboards (no ISO/JIS for now)
Fine legends, by an experienced designer (name reveal in a few weeks, so again, subscribe to be notified)
Will ship at least from US and Europe
2 kits (note: legends have not been designed yet, but you may click the links below to check the kits' content):

Base kit: supports HHKB and FC660C
Extension kit: adds support for RF 87U, RF TKL, RF 84U, RF 86U, RF 104U, FC980C, Topre Type Heaven

Price: TBA (but we promise it won't be so crazy!)
More information, renders and design concepts on our website.
Stay tuned for the next update, once we confirm the legend designer and are able to show more about what the first set will look like!