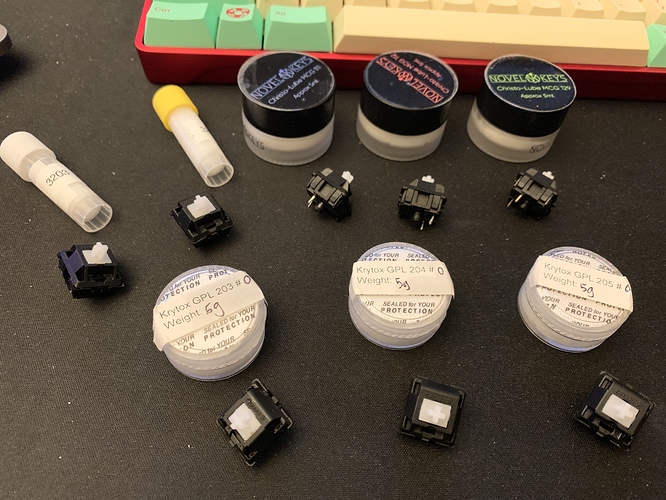 In this test run, I lubed:
Outemu v2 stem
Cherry MX Clear housing
65g SPRiT spring
with:
Cristo-Lube MCG 111
Cristo-Lube MCG 112
Cristo-Lube MCG 129
Christo-Lubes differs a lot from Krytox - It's lumpy but not sticky, like shaving cream.
It's much less controllable than Krytox. Even experienced will have problem controlling amount and location of the lube. Saying it's easy for beginners must be some kind of insider joke cuz it's difficult to use for everyone, experts and newbs alike. Dab and slop is the best I could do.
Stickiness and control - I found their viscosity too close to tell so it's difficult to describe them in terms of thick or thin. More noticeable is degree of stickiness. 111 seemed least sticky, 112 seemed moderate, and 129 most sticky. I had easier time lubing 129 because it's relatively stickier than others, giving me a tiny bit more control.
How do they feel? - All pretty smooth, although not as smooth as 205g0 done right, but with a sort of muffling feel, like trying to whisper with a mouthful of shaving cream. Baffling thing is differences between the lubes are difficult to tell.
Who is on first when? - Out of the three, I initially liked 129 the most, followed by 111. 112 felt more dampened. 129 felt more snappy while still smooth, reminding me of 205g0 when applied just right. But when I tried them later, 129 and 111 felt about same and 112 felt more raw, like 3203. Either my fingers are drunk or Cristo-Lubes need some time to settle in.
Better than Krytox? - No. I still prefer Krytox because variations are more noticeable and enjoyable. I like 3203 (203g0) for its raw feel, 3204 (204g0) for its moderate milky feel, and I like 205g0 the most because it feels the best if applied well. I also use 205g0 to fix switches with raggy feel. And there is a difference in the type of smoothness between the two type of lubes. Krytox's smoothness feels cleaner than Christo-Lube.
What is it best at? - Having tried Cristo-Lubes, I now suspect its best use is with stabilizers and, possibly, Topre. Its best feature is that you can just slop it on without worrying much about stickiness causing sluggish return.
TriboSys vs StoreUni grade 0 greases - StoreUni's grease looks and feels is a bit thicker and seems to separate faster in storage (you can see hairlines appearing in the grease jar after a day or two). Don't know if they also do in the switch.