Hello keeb lovers,
As a way to entertain myself and learn new things I started designing and making my own keyboards last year.
It has been a tiring and sometimes frustrating experience but I learned a lot in the process.
I now use my first homemade custom at work for nearly 6 months and I'm still surprised to find it better than my old Filcos and Topre boards.
It is my 'precious'


If you are curious, the history of the project is on this forum at this link:

I thought that this endeavour would discourage me to go further … just to discover that I was eager to start another design shortly after


Plus I jumped into the buying spree syndrom that most of you know, and ordered several keycap sets made by famous designers out there


I need to have a case prepared for these when they will arrive.
So here is my new project, the Winghead (a special species of hammerhead shark).
It is very new(no more than 2 months) and will take a long time for completion: it took me around 8 months for the previous project to be finished.
What I had in mind for this project:
Try a different layout, but not too small either.
Increase PCB functionality and complexity a bit to have new challenges.
New case design of course.
The PCB(s):
No more hotswap sockets, simple soldered switches with plate and pcb mount compatibility.
Goodbye Costar stabs, Cherry PCB mount stabs used instead.
Increased layout customization, welcome to the PCB Swiss Cheese effect
Separate daugther board PCB with USB C, ESD and over current protection.
No capslock/numlock/scrolllock led indicators to keep case design uncluttered.
In-switch monochrome LED lighting, independently adressable.
ATMEGA32U4 MCU:

Try to do more stuff with less available pins than the previous project that used an AT90USB1286 MCU.
It is a funny personal challenge.
Smaller package makes it easier to find a place in the PCB.
The case:
Two parts design.
All anodized aluminium.
No integrated plate.
So no brass or steel weights and no complicated design in order to lower price.
Probably sandwitch plate design:

I'd love to take inspiration from @Wilba's work on spring plate design for it's Thermal.
Absolutely genious idea that he had, just watch @TaehaTypes build video and you will understand.
This will be a 1800 layout with the following compatibility: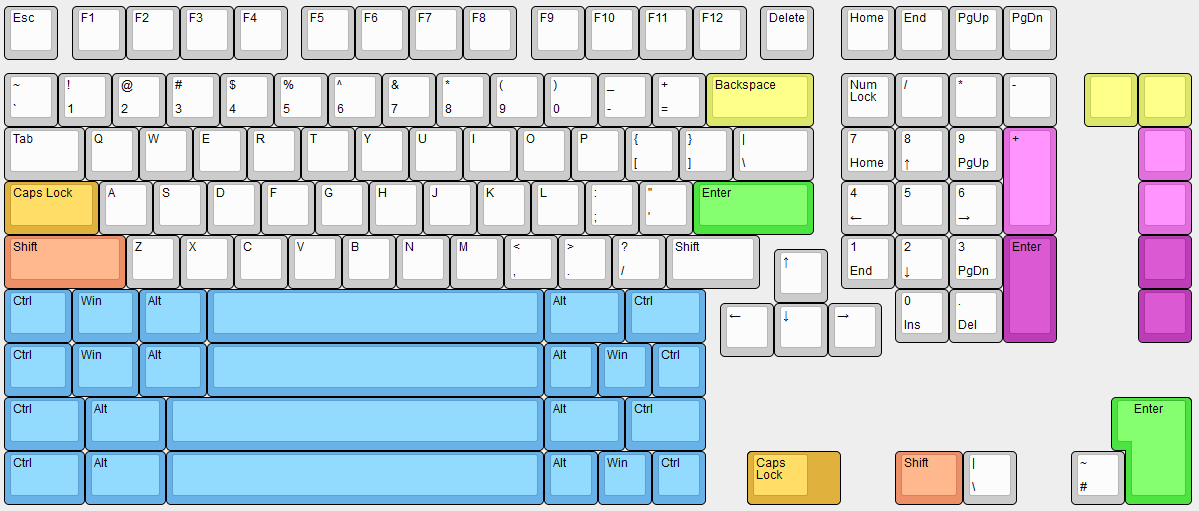 Progress done:
PCB design well advanced, now tuning and double/triple/quadruple checking it.
Draft case design, may change depending on plate design choice.
See you soon!