oof I may or may not have done all of these at one time and def feel ur pain
Once a switch leaf is bent throw it out, it will never be just right again.
Not today but over the weekend - soldered a controller in, blocking access to solder in two switches on a macropad. Turned my Sweet 16 into a Sweet 14 unless I want to unsolder/resolder the controller. Learned to pay more attention to the order of building…
Other than that, successful first attempt soldering something together. Sweet 16 is a great way to learn. (So I guess that could also be what I learned - how to build a macropad!)
Today I learned that when I have extra money I have zero impulse control for group buys



Irresponsible spending club, what what!

Seriously though I feel your statement.
I learned that not all 60% plates are the same thanks to that damn DZ60 hotswap layout with arrow keys. I now have two 2U right shift carbon Fiber plates that are useless to me and I'm unable to complete a build until new ones arrive.
I'm constantly battling film crunch when actuating switches with aggressively protruding stem legs. Problem solved.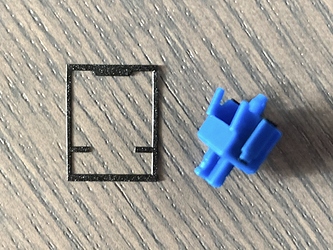 Interesting! I noticed that TX's revised design is something like that.
Aha! Thanks for the info. I guess I learned two things today