Right!?! @Den-Fi huge respect good sir. Classy af.
I'm using a Ducky One 2 TKL w/MX Blacks that I bought to replace my RF87U that was missing keystrokes as the family daily driver. All I will say is that I wish Leopold would get off mini-USB as their stock OEM boards feel so much better IMO.
The way the cable matches your microcontrollers is excellent. Looks like a very comfortable keyboard. Also, the slimblade might be my favorite trackball. I've always wanted to disassemble it and paint it matte black or navy.
Here we have my KBD8X with the companion KBDPAD MKII.
This is a WKL case that I had modified to remove the blockers because I'm smart like that.
The case has a custom Cerakote finish in Tungsten (top) and Robin's Egg Blue (bottom).
The PCB is a custom one that has Kailh sockets and no RGB.
Switches are Boba U4's, but I'll be replacing them with U4T's as I want it to have more Thock.
Keycaps are Black-on-White MT3 profile, with some novelties from Flash Quark.
This tandem turned out super clean

Great build @Extra_Fox! Figured I would share this - https://geekhack.org/index.php?topic=112378.0
If this gets made in a F12 variant, I think I may grab another 8x

Thank you kindly!
I have seen the had80 and yes, I'm definitely hoping it gets made as well. I've got his had60 board that I'm very nearly ready to build (waiting on some clear silicon gaskets). Case-wise though, I'm torn. I wouldn't want to do another 8X, they're nice, but I have one. That'll take some thinking.
Making my brain hurt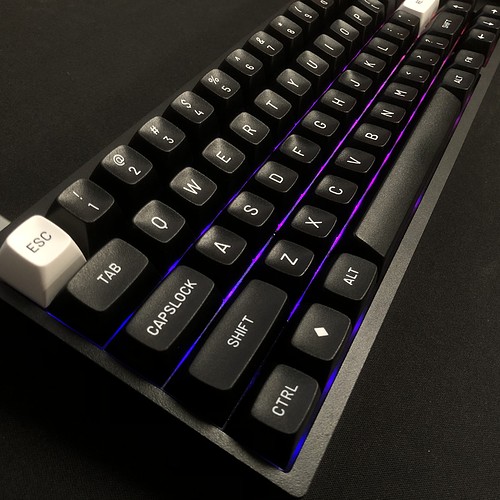 KBD67L R1
MT3 WOB
Taro Ball switches
Truly lovely. Upside to working on the weekend: I can clack as much as I want.
Oh man, weekend work

What keycaps are those? Apple trackpad looks so aesthetic

Bingo! GMK Belafonte and the white keycaps are
Hennessey.
Yup, it's a beaut

Holy. Wow dude, just wow.