What's on my desk today? Well. It's a lot.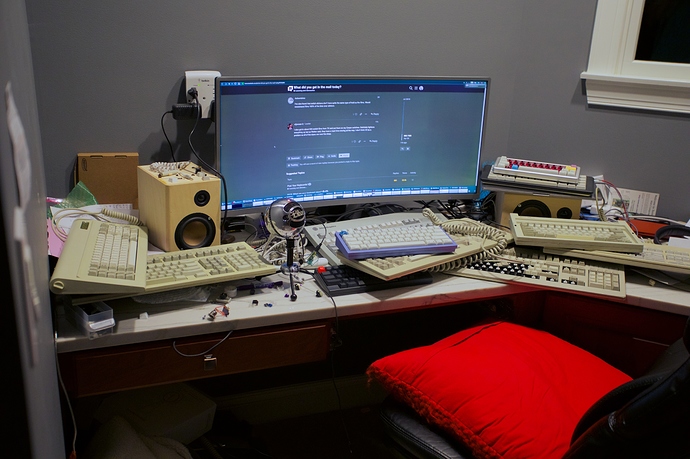 UEK prototype with SKCL Greens, MM2 with Yok Pandas with Kaihl Black stems, Wang 724 with Blue Alps, Cherry g81-3031 (waiting on a replacement pcb so I can chuck the MY trash, Brutal60 with Oblique 55g vint blacks, and a Jacked Frost Shishi, SGI AT-101 Granite with clicky white alps, HHKB, AEK I with oranges, Zenith Turbosport 386 keyboard with alps low profile common mount, Cherry g80-0689 (smoothest vintage blacks ever, and it sounds PERFECT. Filmed, with 55g CWW springs. unlubed, besides the springs.) One of my dailies. Next is an unknown Model F clone with Cherry MX blacks and OG doubleshots. It's a mystery, a unicorn. No model numbers or molding dates/marks ANYWHERE. it definitely wasn't made by Cherry though, that's for sure.
And I still have my other three M0116's upstairs. And my other AEK I, and AEK II. And my Kaypro 2. and my 5140. and my IZEOK-1000. And my z150.
Oh, and I almost forgot my old logo dell at101 with pine black alps and Alps Doubleshots. VERY different from the normal bamboo black alps and crappy Silitek caps.
I like vintage boards.