I bought a 6.25 stab and just added the one bend and then clipped off the excess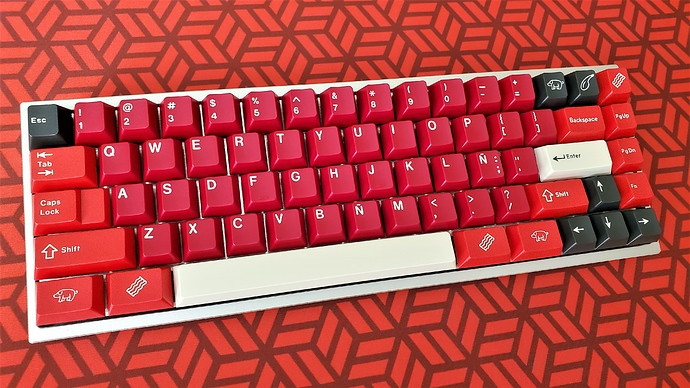 The deskmat goes perfectly with GMK Jamón! Kinda wish I would've gotten both designs now though, the novelties are really growing on me LOL!
What switches did you use?
Beautiful! I still need to get an acrylic case for my project Alice PCB.
Looks like it was at least time well spent to me, awesome build man!
That is absolutely stunning! I love the geometric patterns.
Maybe too much time but the result is great !
Zilents, but I just swapped in Zealios V2
What is that cable?

It's from u/SantiGoIT on Reddit.

on my (friend's) desk today
just finish this build for him
PCB: TNL90 (by myself)
Case: acrylic sandwiched
Switch: Box Navy (he want loudest switch possible)
Keycap: typewriter
I can't say that I would like typing on it, but that board looks awesome. Really well done.
That spacebar would be a challenge for me. Looking at where I press the spacebar right now it's usually somewhere between the B and N but more towards the N. Plus that 1u backspace, big oof. Some nice caps on it though, I like the two next to the spacebar and the KANA