That's pretty heavy

yes, and pretty immobile up to 7 on the Richter scale.

While maintaining a digital press at work, I needed a small amount of grease - so I reach into the toolbox and what do I find?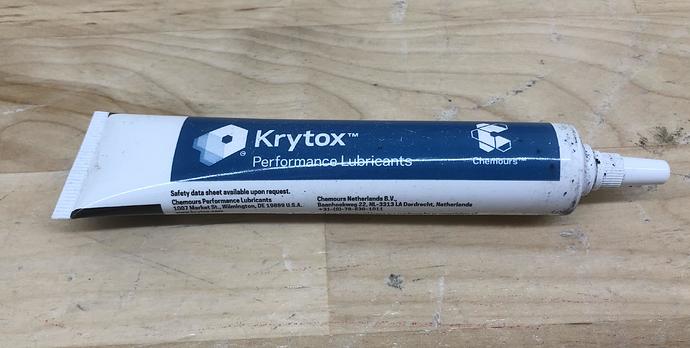 Good ol' Krytox GPL 205;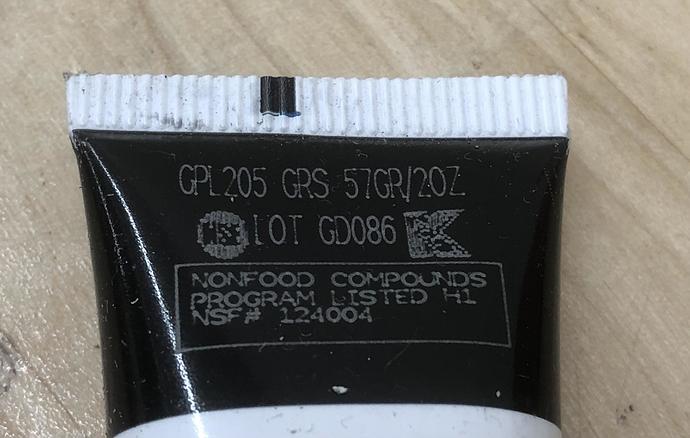 Grade… "S"? Not familiar with that one, but I did get a small kick out of seeing this tube at work.
It's may just be short form for "grease" haha. Maybe.
I took advantage of an offer from AllPCB a week ago to get some free prototype PCBs, including free worldwide shipping. And it's always the shipping that ends up costing as much as the production.
The offer had a short time limit and a limit to the PCB area, so I really quickly knocked up a tiny PCB to connect a Pro-Micro to a ATMega328 for bootloader programming.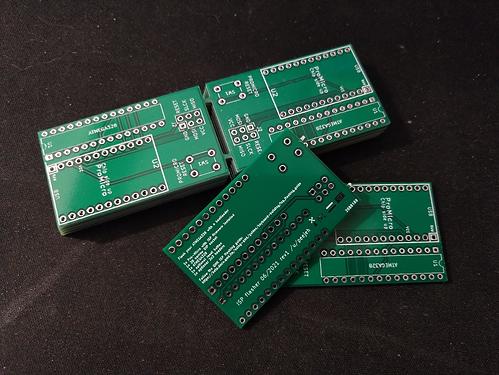 AllPCB are always more expensive than JLCPCB, but you can't argue with free. The quality of these little boards seem good, and you can't argue with the turnaround time, I ordered on the 19th and they arrived via UPS today.
Did some Plastidip experimentation… very good at dampening sound! It also, with a little difficulty, peels off/out. I'd recommend putting a couple pieces of tape underneath/sticking out of the poured material so you have something to start the peel.
You know, related to this, I wonder what Dynamat would do in this scenario. I think I have a few chunks from an old speaker install, I should try that out.
I have some Dynamat in my Amazon "saved for later"! I think sound dampening and control is an aspect of this hobby that needs more exploration and… scientification.
Yeah, definitely. It kind of feel like people just keep doing the same thing because it works, but there's probably plenty of other solutions just as valid and potentially easier to implement.
As a for instance, I used some self adhesive felt to line the bottom of my KBD8X because there just wasn't enough room for foam due to the board I was using (has Kailh hotswap sockets). This seems to have not only worked, but was really cheap too.
I'm going to use this same approach for a 60% board because I need to be able to fit a battery pack, but the pocket machined for it is too shallow. So I need all the clearance I can get, but still want to dampen sound.
There have been some random sound–related threads since I joined KT, like this one that may give you experiment ideas.
One additional thing to note, as far as sound dampening goes, if you ever notice the underside of a stainless steel sink, it will either have patches of material almost exactly like dynamat or be entirely coated with a sprayed on rubber. Sinks might be another close analog to speakers in terms of acoustics, but specifically with metal.
Time to buy Plastidip spray and spray the underside of all my pcbs…
Today I have done some fixes and maintenance on some keebs for a community member.
Only the dz60 left, and the solder on the LEDs won't melt and come of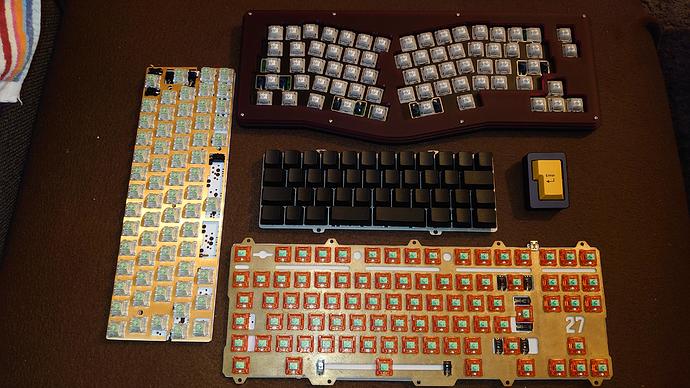 Was it soldered by Kbdfans? I had a similar issue with my old Tada68. Factory solder was like glue, had to mix in some of my flux core solder to get it to melt, suck, and repeat.
Usually took about two sucks per hole to get it out.
Hmm, I'm gonna do some investigation on that.


A hotswap board of Cherry frankenswitch made out from stem from Cherry brown RGB and housing+spring from Cherry blue, both harvested from old keyboards I had around. Lubed with 3204, they feel pretty good but the only proof is in the full-board in-use testing. If the result is good, I'll move them to a more permanent home.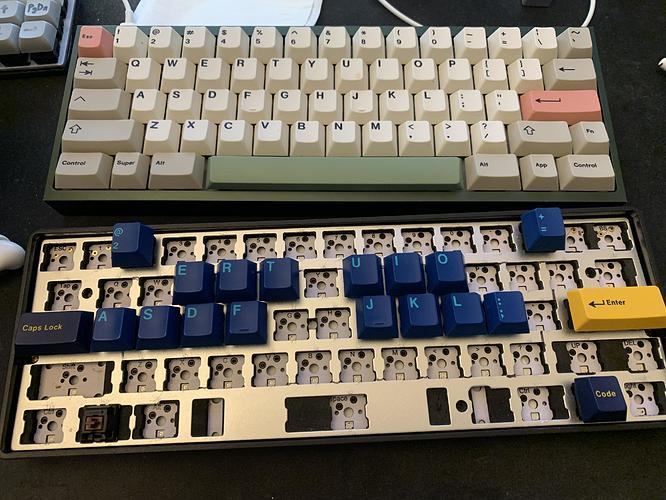 NOTES:
Cherry brown stem in Cherry blue's opaque black (nylon?) housing sounds a lot better than its original (polycarb?) RGB housing with transparent top.
Cherry blue stem in RGB housing also sounds pretty good and its clicks seem more refined albeit less loud.
UPDATE: Full board test result: Felt flat and boring. Same with the remainder frankenswitch. What sounded like tasteful clicks sounded like chirps of a bird buried alive while in use. Back to drawing board.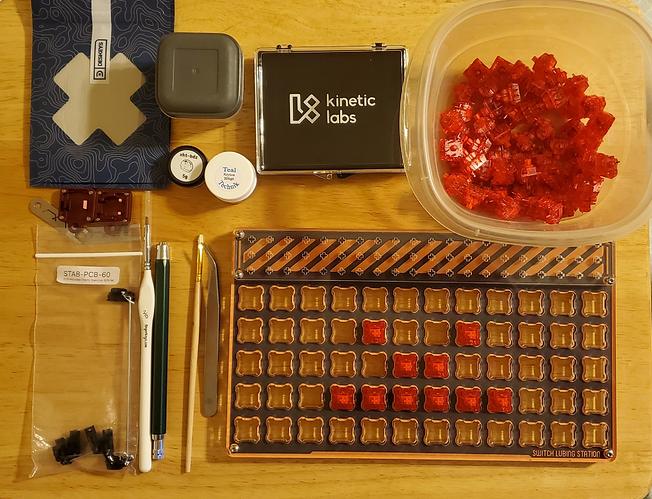 Getting ready to lube & film some Gateron Red Inks. They'll be going in my extra setup for my E6.5 using that white alum. plate I got for it awhile back. Finally getting back out of the funk I was in with wanting to build because how sideways the Rukia Rd.2 GB has gone. Didn't want to look at my keebs for a min there because of that debacle!? I'm over it now though, it'll either eventually show or not. It is what it is, these are the risks we take when joining any GB.
Aw man, glad you're back at it again! Nice to see Gat Red Inks in the wild, feel like I rarely see these.
Not a keyboard, but when finished it will go together with a keyboard

An idea I had for a few years already, a very flat computer case.
I was always fascinated by the "pizza box" computer cases we had in the old days,
like some of the sun, next or silicon graphics workstations.
Although not really a (flat) "pizza box" one of my all time favourites is the purple indigo 2 workstation.
So i decided I need a flat and purple computer case, housing common hardware.
My last case(mod) was made from an old 2u rack server, but I need to go even flatter…
So I went for a 1.5u rack case as a basis for my new case.
Not finished yet, but you can see where this is going.
I removed the original frontpanel and made a new and slightly deeper one out of steel.
Some additional fan holes and mounting points for the future DC/DC power supply, since a common ATX supply won't fit.
Not finished removing all of the original paint, but the final sand blasting will be done right before I do the new coating.
I'll do the case in RAL 4007 purple violet.